AKB48's 21st single CD "Everyday Katyusha" topped the Oricon daily charts selling 942,475 copies on its first day.
Topping number two's comparatively tiny 55,000.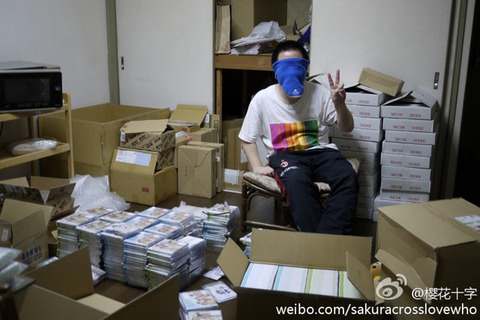 While there is always talk about fans buying multiples, AKB48 is known for having a few extremely hardcore fans who buy dozens and dozens of CDs and other goods.
Photographic evidence has been posted to 2ch of two fans claiming to have bought 5500 CDs and 2200 CDs.
Why such massive buys?
Most likely because these CDs include a serial number to vote in the AKB general election which decides who will sing the 22nd AKB single.
The results will be announced on June 9th. Now, for the photos.
The pictures originates from the Chinese microblogging site weibo.
Supposedly, this person is supporting Yuuko Ooshima in the election.
Via:
2ch