I've used checkboxes (Forms toolbar) for a while now but always found them a little awkward. For example, if there are a lot of them on a Worksheet with a white background, they don't stand out very much and it's a bit hard to check the checkboxes (pun intended).
Here's a way to make them a bit more visible. (Be forewarned this will remove Conditional Formatting and use White font in the cells you select)
A little background first. All checkboxes can link to a cell (Optional). If you designate a linked cell (by right-clicking a Checkbox to bring up the Format Control dialog box), if ticked, the link cell returns TRUE, otherwise it will return FALSE. You can also change it's name using the Name Box.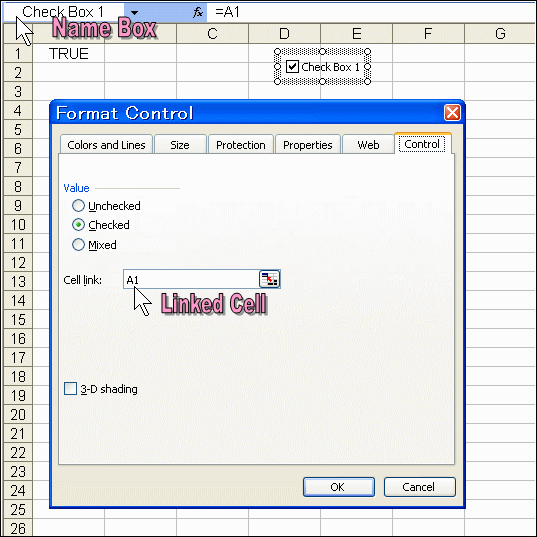 Notice how I use the singular tense ("a" Checkbox, "it's" name). This is because they must be formatted one at a time. This really is annoying when you have several checkboxes you want to add or change.
This macro does it automatically by giving referencing each checkbox to each cell in a selection, both linked cell and the checkbox name. It also changes color to Yellow when ticked and back to White when unticked, using Conditional Formatting (just change the color index to get other colors if you prefer)
Sub AddCheckBoxes()
On Error Resume Next
Dim c As Range, myRange As Range
Set myRange = Selection
For Each c In myRange.Cells
ActiveSheet.CheckBoxes.Add(c.Left, c.Top, c.Width, c.Height).Select
With Selection
.LinkedCell = c.Address
.Characters.Text = ""
.Name = c.Address
End With
c.Select
With Selection
.FormatConditions.Delete
.FormatConditions.Add Type:=xlExpression, _
Formula1:="=" & c.Address & "=TRUE"
.FormatConditions(1).Font.ColorIndex = 6 'change for other color when ticked
.FormatConditions(1).Interior.ColorIndex = 6 'change for other color when ticked
.Font.ColorIndex = 2 'cell background color = White
End With
Next
myRange.Select
End Sub
This is how they will look.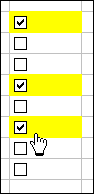 Note: A non-VBA alternative is to use Marlett font, then type "a". This will do the same thing and you can use Conditional Formatting to change the color also.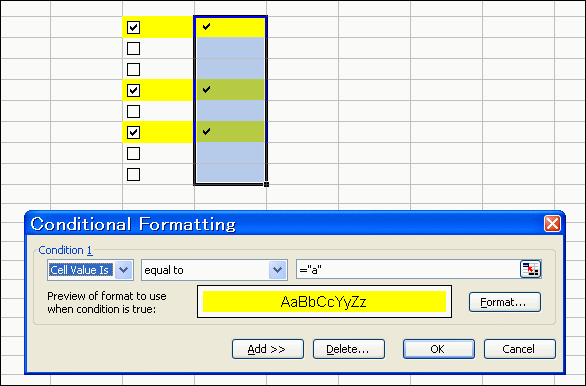 Just so you know, checkboxes can be set not to print using the Properties tag of the Format Control dialog box. Use the Select Objects arrow on the Drawing toolbar to select them as you want.