For the last couple of nights I've been lurking around a certain Excel forum, part trying to help, part trying to learn, and part trying not to make too big a fool of myself (one can only wish).
One thing I noticed were a couple of questions about how to make zeros reappear. (Please see
here
for one way to make them
disappear
)
Let's say you have a part number that starts with a zero or two or three. With a General format, those zeroes just keep disappearing (the ones that the part number starts with, not ones entered later) Here are some ways to make them come back to life, all shiny and new.
Make Them Text
Just enter an apostrophe in front like this '012345 and you will get 012345. Very simple, very quick.

If you have lots of numbers to enter, right-click all cells that contain or will contain the zeroes, to select the Format Cells dialog box. Then choose the Number tab and push Text, OK. Finished.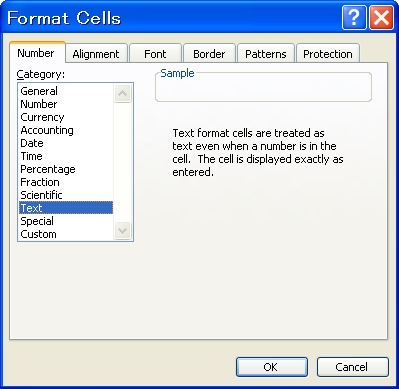 One possible problem in both the above solutions is that these part numbers are now text. Although they still look like numbers, they are no longer recognized and are ignored by numeric functions.
Custom Formatting
Here's another way. The part number 012345 has six digits. Using the Format Cells dialog box, this time select Custom on the Number tab and enter six zeroes, 000000. This will force the the number to always appear as six digits regardless if they start with a zero or not. A bonus is that they are still numbers and can be calculated as such.
Last one. One method I thought up (though I'm quite sure others have preceded me) is to merely add the required number of zeros in front, enclosed in quote marks as in "000", and then add a zero behind to make it a number.
This is not a bad format. You can always have the same number of zeros in front, it adapts to any number of digits (although a fixed number digits as above may be what you are after), and still remains a calculable number. You can also do things like "000"0.00 for 2 decimals or "000"#,### (Be aware that the zeroes in front are now treated as text and not affected by the numerical formatting, so commas will not appear in their case)
Hopefully this picture will explain.

G'night!