Here's some more stuff you can do with "Marlett" checkboxes. (You can do similar stuff with regular checkboxes, I just prefer working with "Marlett" ones for the time being)
Adding Labels
If you used my macro
below
to add "Marlett" checkboxes to your worksheet, it's easier to enter text into the transparent shapes like this. (I added some spaces to get the text aligned, there's no indent for AutoShapes)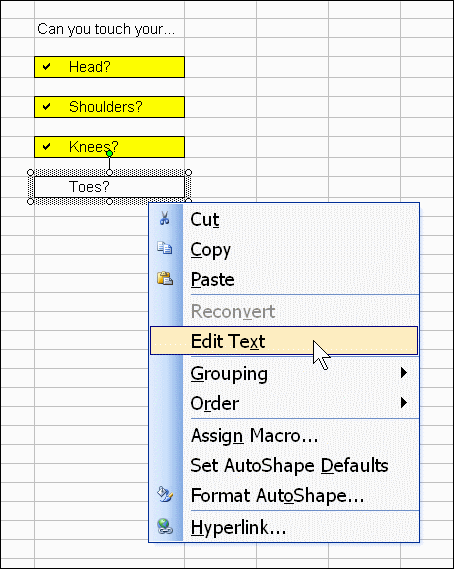 These are relatively simple changes, you could do all kinds of weird and wonderful things changing the Conditional Formatting, Font color etc with the macro itself. If you know how to, let your imagination run wild :-)
Getting Ticked Off
Here's a simple Workbook_Open macro to with an option to untick all checkboxes at once. Place it in ThisWorkbook with the Visual Basic Editor.
Private Sub Workbook_Open()
Dim c As Range, Proceed As Long
Proceed = MsgBox("Do you want to untick all checkboxes? ", vbYesNo)
If Proceed = vbYes Then
For Each c In ActiveSheet.UsedRange
If c.Font.Name = "Marlett" And c.Value = "a" Then c.Value = ""
Next
End If
End Sub
Making Them Go Away
Let's say you want to hide the checkboxes when printing (without Labels in this case).
Add this to the my
AddCheckboxesMarlett
code (the next line after where it says "With Selection" is fine).
.PrintObject = False
Or if you already have some checkboxes, use the Select Objects arrow on the Drawing toolbar to select them, right-click any checkbox and select Format AutoShape, Properties, then untick Print object.
Now the boxes are hidden, use this code to hide the ticks, placing it in ThisWorkbook (Idea "borrowed" from the
Daily Dose of Excel
. Sorry Dick!) The checkboxes will reappear after being printed.
Private Sub Workbook_BeforePrint(Cancel As Boolean)
Dim c As Range
Application.ScreenUpdating = False
Application.EnableEvents = False
Cancel = True
For Each c In ActiveSheet.UsedRange
If c.Font.Name = "Marlett" Then
c.Font.ColorIndex = 2 'White
c.FormatConditions(1).Interior.ColorIndex = 2 'White
End If
Next
ActiveSheet.PrintOut
For Each c In ActiveSheet.UsedRange
c.FormatConditions(1).Interior.ColorIndex = 6 'Yellow
c.Font.ColorIndex = 0 'Black
Next
Application.EnableEvents = True
Application.ScreenUpdating = True
End Sub
I had to use the printer at work a few times before I got it right. People were giving me strange looks, little do they suspect I'm an Excel addict
and
a maniac ;-)