This is something I use as a reminder when something needs to be filled out in a form (invoices etc made on Excel spreadsheets).
From the main menu, choose Format, Conditional Formatting, Cell Value Is and enter
=""
. Then push the Format button on the right to select a suitable "highlight" of choice.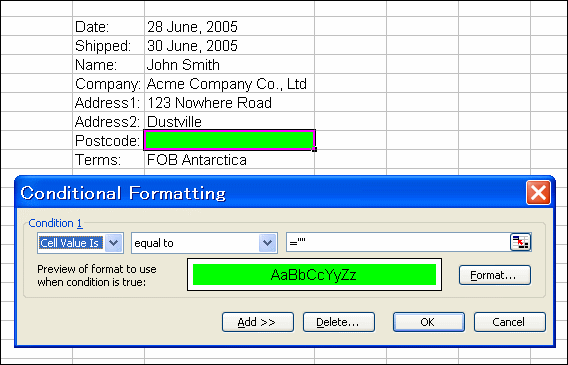 By highlighting these "must fill out" fields (cells) when blank, it's kind of hard to miss the obvious.
If you find yourself using this a lot, the following code makes it just a little faster by assigning a macro button. (Keep in mind it will delete any existing conditional formats first)
Sub HighlightBlankCells()
On Error Resume Next
Application.ScreenUpdating = False
Dim c As Range, myRange As Range
Set c = ActiveCell
Set myRange = Selection
For Each c In myRange
With c
.FormatConditions.Delete
.FormatConditions.Add Type:=xlCellValue, Operator:=xlEqual, Formula1:="="""""
.FormatConditions(1).Interior.ColorIndex = 4
End With
Next
myRange.Select
Application.ScreenUpdating = True
End Sub
For the "purists" you can use Formula is
=ISBLANK(INDIRECT(ADDRESS(ROW(),COLUMN())))
to pick up unwanted "fluff" (to make sure cells are
truly
blank), generally speaking though Cell Value Is
=""
should work just fine ;-)