Find as in Find and Replace (Ctrl + F) is a great search feature in Excel. Here's a picture of being used to find cells that contain "at".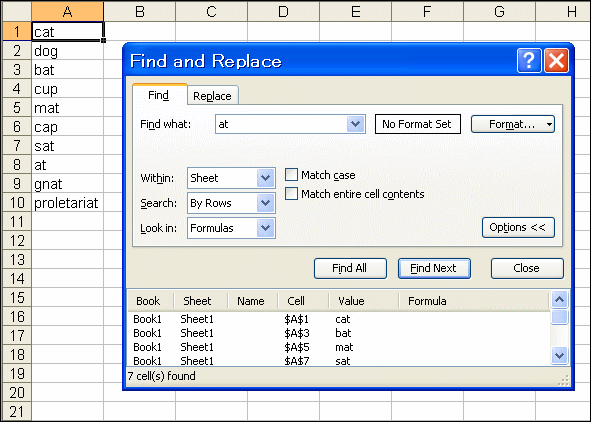 But finding and selecting are 2 different tasks. In order to select all cells listed, I can click the top line then scroll down and click the bottom line while pushing Shift or try pushing Ctrl + A but it seems a little awkward if you are in a hurry. (Perhaps I complain too much? :-) )
Anyway, I was playing with Like today and wrote some simple code to both find and select at the same time. Good practice for me in any case.
Enter your search term... (Use ActiveSheet.UsedRange instead of Selection if you prefer to select the entire sheet)
Sub SelectCellsLike()
On Error Resume Next
Dim myString As String, c As Range, rFind As Range
myString = InputBox("Enter your search string.", "Select Cells Like")
For Each c In Selection ' use ActiveSheet.UsedRange to search entire sheet
If c.Value Like "*" & myString & "*" Then
If rFind Is Nothing Then
Set rFind = c
Else
Set rFind = Union(rFind, c)
End If
End If
Next
rFind.Select
End Sub
Push Ok and they are selected.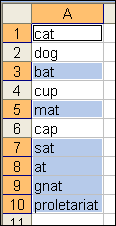 By the way, here's something that might be useful for later versions of Excel. If you double click the title bar of dialog boxes such as Find, Open or Save As, they will maximize which makes things a lot easier to see. Double click the title bar again and it minimizes (returns to it's normal size)