Sorry for my infrequent posting of late.
Colo
and I are working on a shareware version of my utilities. They should be ready sometime in November - there is quite a lot of changes we are making and they will be a lot better than before.
Did manage to add a right-click menu to
Rounded Comments
that allows you to Cut, Copy and Paste inside and outside the textbox. Here's a pic.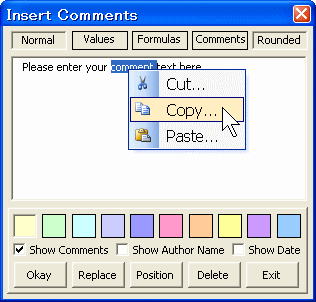 It's just as easy to use short cut keys - Ctrl + X for Cut, Ctrl + C for Copy and Ctrl + V for Paste. There are those times when you might be on the phone or something and don't have both hands free... at least I have the phone on the left and it's pretty hard to use the short cut keys with my right hand, the mouse is quite handy though.
Back to work, bye for now :-)