Just something I made on a whim. There are times when you want to draw a simple map, and when you think about how you can set Excel's rows and columns to a grid, it's a perfect choice for the job.
Enter the Map Maker. Push the "map" butttons to insert bitmap images into selected cells. (Rows and Columns are sized to fit the bitmaps) You can launch it from the Tool menu at the top of Excel once the add-in is installed.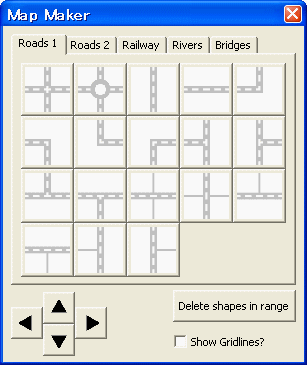 Okay, the butttons don't look so nice yet but I did this in a hurry :-)
You will notice the arrow buttons on the userform. They work in the same way as the buttons mentioned in my previous post about detecting the Ctrl and Shift keys. Push the buttons by themselves to select adjoining rows and columns, or use while pushing down the Ctrl or Shift keys to expand or contact selected ranges accordingly.
Here's an example of what you can do. (Background color was added by selecting the shapes and changing the Fill color to Light Green)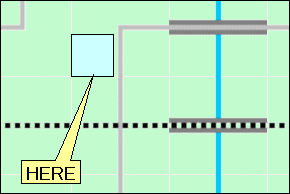 Once the map bitmaps are inserted, you can take advantage of Excel's inbuilt drawing features. The "building" and sign that says "Here" in the above image are standard Autoshapes, sized and formatted to suit.
It's fun!
Tested on Excel 97 and 2003 (modeless userform for Excel 2000 and later versions). The bitmaps come out the wrong size in 2007, but I will be looking for a workaround and upload it when available.
You can download it
here
;-)