It's been almost 3 months since I last blogged. I really apologize. Between looking for work and taking care of this and that, time just got away from me. My laptop deciding to suddenly die and did not make things better either.
Anyway, I'm still kicking and while I am, I guess I'll keep on blogging ;-)
My last post was about writing comments under macro names. I made an addin that takes it a bit further - you can now add, replace or delete multiple line comments. It's very similar to the comments you can add when you record a macro, the advantage is that you work with all macros in a workbook. Note that other comments not immediately under the macro name will be unaffected.
Select a project,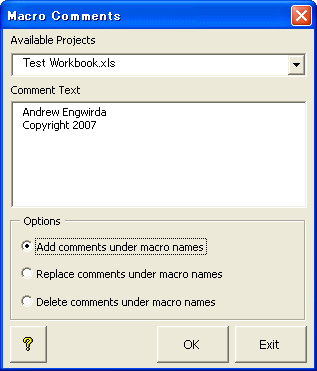 Before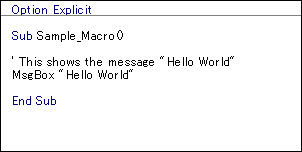 After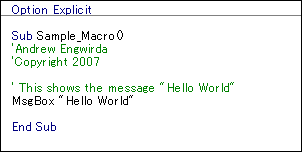 Tip - If you already have comments under macro names, you can use the Add option to enter generic comments such as your company name etc above these existing comments
Here is the download
link
.
Hope to see you again real soon :-)