Here's a few things you can do with textboxes on userforms. As you can see, I have a userform with a textbox and 2 buttons. Those buttons don't matter for this demo, the textbox does what is required.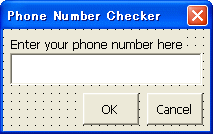 Password Characters
I'm not sure how useful this really is. If you are worried about someone looking over your shoulder while you type something in, I'd be inclined to go have a cup of coffee and wait until they go away. Maybe I'll show how I get around key loggers too someday :-)
Select the Textbox and push F4 if the Property Window in the VBE if not already visible. Find Password Characters, then enter a character of choice to hide what you type in the textbox. An asterisk seems to be the one everyone uses. Looks nice if nothing else.

Limit Number of Characters
This is getting better. You could check the number of characters once OK is pushed but it might a better idea to do this while the user is typing (imagine if you had several textboxes and had to retype them, this way is more user friendly)
Assuming our textbox is called Textbox1, place this code withing the userform to disallow anything more than 10 characters.
Private Sub TextBox1_Change()
If Len(TextBox1.Text) > 10 Then
TextBox1.Text = Left(TextBox1.Text, 10)
MsgBox "Don't enter more than 10 digits!", , "Input Error"
Exit Sub
End If
End Sub
Enter more than the limit and a mesage box appears.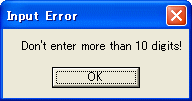 Limit Type of Characters
I chose a telephone number rather than password for this example because I want something that consists of numbers only. The below code will see to that.
Private Sub TextBox1_KeyPress(ByVal KeyAscii As MSForms.ReturnInteger)
If KeyAscii < 48 Or KeyAscii > 57 Then
MsgBox "Only digits are allowed!", , "Input Error"
KeyAscii = 0
End If
End Sub
Enter a letter and an error messsage appears.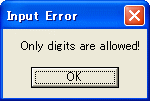 There's a lot more things you can do of course but these are three of my favorites.
Special Comment
Jon Peltier
wrote to me and suggested a more user friendly alternative. Rather than message boxes straight off, his idea is to change the color the text box plus use a caption as an indication, then use a message box only if the user continues anyway. Here is his code below.
Function ValidateTextbox1(sMsg As String)
ValidateTextbox1 = True
Textbox1.BackColor = iFILL_UNHIGHLIGHT
If ... Then
ValidateTextbox1 = False
Textbox1.BackColor = iFILL_HIGHLIGHT
sMsg = "Suitable error message here"
End If
End Function

Private Sub TextBox1_Change()
Dim sMsg As String
If Not ValidateTextbox1(sMsg) Then
lblError.Caption = sMsg
End If
End Sub

Private Sub btnOK_Click()
Dim sMsg As String
If Not ValidateTextbox1(sMsg) Then
lblError.Caption = sMsg
MsgBox sMsg, vbExclamation, "Input Error"
End If
End Sub
Good design is the mark of a true professional - thanks Jon!