There are a lot of new features in Excel 2007, including a range of new colors. That's great but sometimes you might like to choose previous version compatible colors. So I made an add-in called Classic Excel Colors (one of my simplest yet) .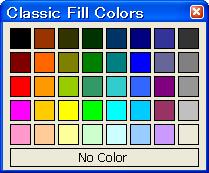 Using Excel 2007, you will find it on the Add-Ins tab. On previous Excel versions, you will find it on the Tools menu. (It's virtually the same as the Fill and Font toolbars, it's just on a userform instead)
You can use it to change colors for cells, autoshapes, graphs etc, etc :-)
Here's the download
link
.