Here are a couple of new add-ins I made over the last week.
Excel Calendar
I was disappointed with the slow calculation time of my Calendar Toolbar so I decided to make something with a userform instead.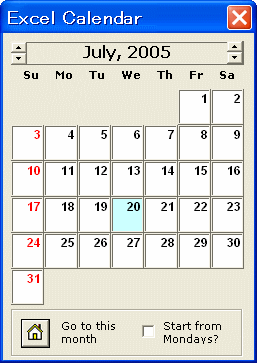 This calendar uses variables instead of relying on formulas within cells. I've tested it at my job to see if any speed was lost when working with very large files. I'm happy to say that the code seems to run a lot faster. A valuable lesson learned. (If you look closely, you'll see that it uses a simplified version of my worksheet calendar formula but written in VBA)
Also, I'd like to thank
Colo
for his suggestion of using a Class module to avoid using the same code over and over again for each button. It's things like this that keep everything nice and simple, not too mention a good experience for me to practice with a new way of coding :-)
Here's the
download
. It's just a date picker at the moment, I might add more features later on.
Excel Calculator
This too uses variables only. It wasn't too hard using worksheet formulas in cells, using variables was a bit more difficult but I got there in the end. Same story with the speed, it works a lot faster.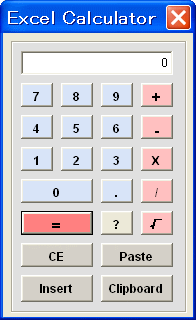 Here's the
download
, I hope you find it useful.