Earlier Excel versions don't always have some of the features found in later versions. Well, this much should be obvious, the trick is making a workaround to do the same thing.
Let's consider finding cells with a specified color. Rather than use a userform with a color pallete, how about using an Excel color pallet that already exists?
In this case, the Patterns dialog box. It's the same one used with Format Cells on the Right Click menu.
This code shows the dialog box itself.
Application.Dialogs(xlDialogPatterns).Show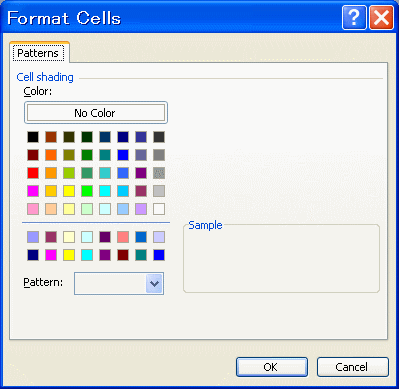 Once we know how to do that, we can use it to color something, in this case the active cell of a selected range and then loop through each one of these cells and select those that have the same color. Two things to keep in mind are these.
1. The orginal color of the Active Cell may be the same color as we wish to look for. This means it should be included in the loop, otherwise it should be disregarded.
2. Regardless whether the orginal color is the one we want, if we set it back to the same color after the code has run, we can be sure that all of the cell colors were the same as they were before.
Here's the code. Try to spot where the above points are included. (Make sure your range is selected first)
Sub FindByColor()
On Error Resume Next
If TypeName(Selection) <> "Range" Then Exit Sub
Dim aColor As Long, rColor As Long
Dim c As Range, aCell As Range
Dim myRange As Range, colorRange As Range
Set aCell = ActiveCell
Set myRange = Selection
Application.ScreenUpdating = False
aCell.Select
aColor = aCell.Interior.ColorIndex
Application.Dialogs(xlDialogPatterns).Show
rColor = aCell.Interior.ColorIndex
If aColor = rColor Then
For Each c In myRange
If c.Interior.ColorIndex = rColor Then
If colorRange Is Nothing Then
Set colorRange = c
Else
Set colorRange = Union(colorRange, c)
End If
End If
Next
Else
For Each c In myRange
If c.Interior.ColorIndex = rColor _
And c.Address <> aCell.Address Then
If colorRange Is Nothing Then
Set colorRange = c
Else
Set colorRange = Union(colorRange, c)
End If
End If
Next
End If
colorRange.Select
aCell.Interior.ColorIndex = aColor
Application.ScreenUpdating = True
' Clean up after the code has run
Set aCell = Nothing
Set myRange = Nothing
Set colorRange = Nothing
On Error GoTo 0
End Sub
Of course, we can expand on this to do all kinds of things if the right type of dialog box is available. Using Excel to work with Excel, waste not, want not ;-)