2008年03月30日
Happy Wedding!!
The telephone came from the old-friend to me.
He said" Can you come to the after-party of wedding of K-co?"
(my head says)
Huh?! Before that, did she marry?!
I don't get marry yet?!
I felt loser…
Well, I can go.
Anyway, When?
It's day after tomorrow.
After two days?!
It's sudden!
Whatever, I don't have plan at night the day.
So I decided to go.
And I wanted to see my old-friends after a long time.
She (K-co) and her husband have the age difference.
So, we did not fit the after-party.
Cos A lot of her husband's friends had come for the party.
We got together and ate dishes.
It's just dinner scenery! Usually dinner time!
What's the party??
After, When the party is about to end.
My friend A-chan(homemaker) found remaining dish.
She said"I wannna make the box lunch by it for my husband tomorrow."
We are amused she say the word.
Then, became it. hahaha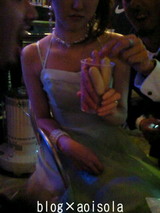 she get a aluminum foil from the kitchen.
Eventually, she decided bring it.
She's got a big smile!!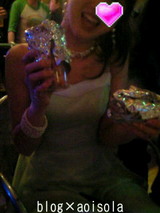 By the way,
It's Taco-rice that she has in the left hand.
I said"I think it's good when you pass it to the your husband."
"I made box lunch for you!"
YES ! Disappoint !
Hahaha, it's joke.
Dear K-co,
Congratulations on your HAPPY wedding!!
And please give birth to an energetic baby.
Posted by aoi_sola_ura at
22:09
2008年03月29日
2008年03月28日
2008年03月21日
2008年03月03日
2008年03月02日
2008年03月01日
2008年02月24日
2008年02月20日
2008年02月14日
2008年02月13日
2008年02月12日
2008年02月11日
2008年02月09日
2008年02月07日
2008年02月06日
2008年02月04日
2008年02月03日
2008年02月02日
2008年02月01日
2008年01月31日
2008年01月30日
2008年01月29日
2008年01月28日
2008年01月27日
2008年01月26日