2012年12月4日(火)、Apple が
iTunes Store
をロシア、トルコ、インド、南アフリカなど新たに52カ国で開始した事を
発表
しています。
ロシア、トルコ、インド、インドネシアでは、同日より「Movies(映画)」の提供も開始したそうです。
現在、
iTunes Store
は 119カ国で、
App Store
は70万以上のアプリケーションを155カ国で提供しています。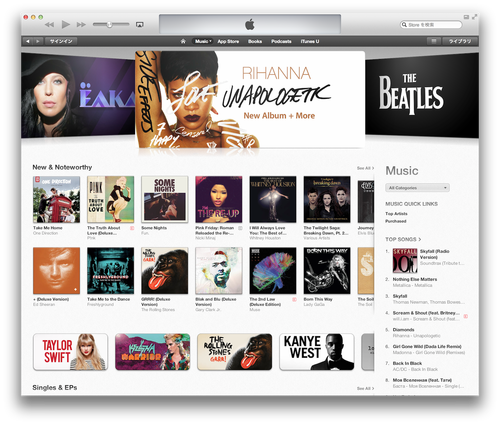  Apple - Press Info - Apple Launches iTunes Store in Russia, Turkey, India, South Africa & 52 Additional Countries Today
MOSCOW—December 4, 2012—AppleR today announced the launch of the iTunes StoreR in Russia, Turkey, India, South Africa and 52 additional countries featuring an incredible selection of local and international music from all the major labels and thousands of independent labels. The iTunes Store features local artists including Elka in Russia, Sezen Aksu in Turkey, AR Rahman in India, and Zahara in South Africa, international artists including The Beatles, Taylor Swift and Coldplay, and world-renowned classical musicians including Lang Lang, Yo Yo Ma and Yuja Wang. Customers can choose from over 20 million songs available to purchase and download on the iTunes Store.

Movie fans can choose from a wide selection of films available for rent or purchase from the iTunes Store, with many available in stunning HD, from major studios including 20th Century Fox, Sony Pictures Home Entertainment, The Walt Disney Studios and Warner Bros. Pictures, as well as leading local distributors.*

The iTunes Store is available in 119 countries and is the best way for iPhoneR, iPadR, iPodR, MacR and PC users to legally discover, purchase and download music online. All music on the iTunes Store comes in iTunes PlusR, Apple's DRM-free format with high-quality 256 kbps AAC encoding for audio virtually indistinguishable from the original recordings.

iTunesR in the Cloud lets you download your previously purchased iTunes music to all your iOS devices at no additional cost, and new music purchases can be downloaded automatically to all your devices. In addition, music not purchased from the iTunes Store can gain the same benefits by using iTunes Match℠, a service that stores your entire music library in iCloudR for access at any time, from any iOS device. iTunes Match is available for purchase in the new countries added today.

Customers also have access to the revolutionary App Store℠ with more than 700,000 apps available in 155 countries.
【Abroのひとりごと】
iTunes Store
といえば・・・。
 Apple Support:
iTunes in the Cloud で利用可能なコンテンツおよび iTunes Match の利用可能国
(最終更新日: 2012/07/20)
はたして、日本で「iTunes Match」は年内に始まるんだろうか??残り3週間とちょっとしか残ってないけど。。。
(by Abro)
【関連記事】
【更新】Apple、56の国と地域でiTunes Music Storeの提供を開始:APPLE LINKAGE(2012/12/4 13:28)
アップル、ロシアや南アフリカでiTunes Storeスタート -AV Watch(2012/12/4 20:00)
iTunes Music Store Launches in 56 New Countries, Movies Arrive in Four - Mac Rumors (Monday December 3, 2012 7:20 pm PST)

The new countries include:

Europe: Belarus, Moldova, Russia, Turkey, Ukraine
Africa, the Middle East and India: Armenia, Azerbaijan, Bahrain, Botswana, Burkina Faso, Cape Verde, Egypt, Gambia, Ghana, Guinea-Bissau, India, Israel, Jordan, Kenya, Lebanon, Mauritius, Mozambique, Namibia, Niger, Nigeria, Oman, Qatar, Saudi Arabia, South Africa, Swaziland, United Arab Emirates, Uganda, Zimbabwe
Asia Pacific: Fiji, Indonesia, Kazakhstan, Kyrgyzstan, Micronesia, Mongolia, Nepal, Papua New Guinea, Tajikistan, Turkmenistan, Uzbekistan
Latin America and the Caribbean: Anguilla, Antigua and Barbuda, Bahamas, Barbados, Belize, Bermuda, British Virgin Islands, Cayman Islands, Dominica, Grenada, St. Kitts and Nevis, Trinidad and Tobago

iTunes Music going live in Turkey, Lebanon, Saudi Arabia, Israel, Russia & more ahead of tomorrow's rumored Russia-based iTunes event (Update: 56 countries) | 9to5Mac (December 3, 2012 / 12:58 pm)
AppleInsider: Apple officially opens iTunes Music Store in 56 countries (Tuesday, December 04, 2012, 01:32 am)
Engadget: Apple opens iTunes Music Store in 56 new countries, four get movies too (Dec 4th, 2012 at 12:36 AM)
iTunes Store opens in Russia, 55 other countries in hefty expansion | Apple - CNET News (December 3, 2012 10:07 PM PST)
Apple finally brings its iTunes Store to Indonesia and India, and 54 other countries - The Next Web (4 December 2012 Updated at 07:43 CET)
iTunes Store extended to Russia, South Africa, India and 53 additional countries (updated) | The Verge (December 3, 2012 06:15 pm)
iTunes Event Taking Place In Moscow On Dec 4: Is Russia Finally Getting Apple's Music Service? | TechCrunch
Apple Expands iTunes Store To 56 New Countries, Including India And Russia | Cult of Mac (11:39 pm PDT, Dec 3rd)
Apple launches iTunes Store in 56 additional countries | TUAW - The Unofficial Apple Weblog (Dec 4th 2012 at 8:00AM)
Apple rolls out iTunes Store to more than 50 new countries - iPad/iPhone - Macworld UK (Tue, 04 Dec 2012)
iTunes Music Store officially launches in 56 more countries | iPodNN (09:09 am EST, Tue December 4, 2012)
Apple rolls out iTunes Store in 56 countries - SlashGear (Dec 4th 2012)
(
itunes in the cloud - Google 検索
/
itunes store - Google 検索
)
【Apple Brothers - 関連記事】