2013年1月1日元旦から、iOS 6 搭載もしくはアップデート済みの
iPhone
、
iPod touch
、
iPad
で「Do Not Disturb(おやすみモード)」機能がオンになったままスケジュール通りに解除されない問題が発生していますが、Apple はサポートページで2013年1月7日まで「通知」設定の「おやすみモード」の時間指定をオフにするよう
案内
しています。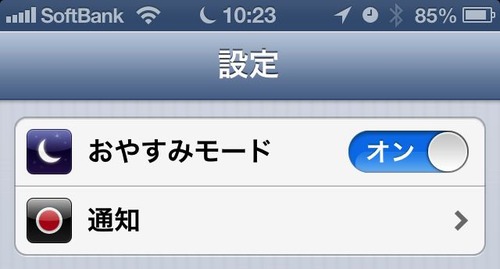  Apple Support: iOS 6: Do Not Disturb mode stays on after scheduled time
Last Modified: Jan 2, 2013

Products Affected
iPad, iPhone, iPod touch

Symptoms
After January 1st, 2013, Do Not Disturb mode stays on past its scheduled end time.

Resolution
Do Not Disturb scheduling feature will resume normal functionality after January 7, 2013. Before this date, you should manually turn the Do Not Disturb feature on or off.

To turn off the scheduling feature, tap Settings > Notifications > Do Not Disturb and switch Scheduled to Off.

This document will be updated as more information becomes available.
【Abroのひとりごと】
新年早々、Appleは
iPhone 5
の新CMとしてこの「Do Not Disturb(おやすみモード)」を紹介してるのに、こうもタイミングよく元旦バグを発生させちゃうのかな・・・?(関連記事:
Apple Brothers
)
(by Abro)
【関連記事】
(
ios 6 - Google 検索
/
ios 6.0.2 - Google 検索
)
【Apple Brothers - 関連記事】