Apple が、
Mac App Store
で3週間にわたり優れた生産性アプリを紹介し期間限定特価で提供する「Get Stuff Done」キャンペーンの最終週となる「UTILIZE」が公開されています。

第3週目は、ログインパスワード管理などユーティリティアプリ「
1Password
」や「
Fantastical
」「
PopClip
」「
Soulver
」「
Snagit
」「
Clarify
」「
mSecure - Password Manager
Dropzone
」「
Yoink - Matthias Gansrigler
」「
Keycard
」が紹介されています。
期間限定特価で提供されるのは、第3週目は2013年2月14日(木)までとなっています。
 Mac App Store: Get Stuff Done - Week 3 "UTILIZE"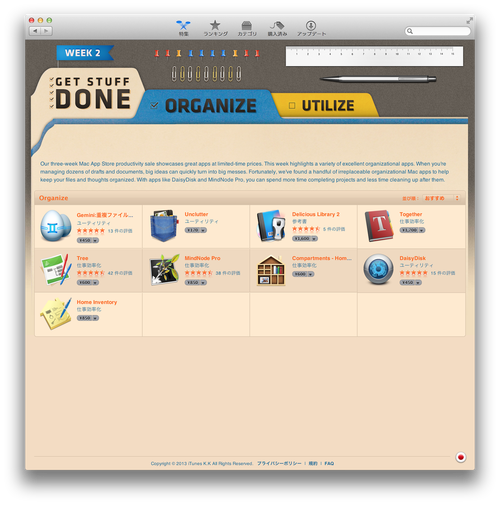 Great Productivity Apps at Great Prices

Our three-week Mac App Store Productivity sale showcases great apps at limited-time price. In the final week of our productivity series, we're highlighting Mac utilities that bring a spark to our workflow. Whether we're getting quick access to calendar information with Fantastical or taking the hassle out of remembering login with 1Password, these apps help us get thing done fast and in style.
【Abroのひとりごと】
(by Abro)
【関連記事】
Third Week of Apple's 'Get Stuff Done' Promotion Features Utility Apps - Mac Rumors (Thursday February 7, 2013 2:43 pm PST)

1Password: $24.99 down from $49.99
Fantastical: $9.99 down from $19.99
PopClip: $2.99 down from $4.99
Soulver: $12.99 down from $19.99
Snagit: $24.99 down from $49.99
Clarify: $14.99 down from $29.99
mSecure: $9.99 down from $19.99
Dropzone: $1.99 down from $4.99
Yoink: $1.99 down from $2.99
Keycard: $4.99 down from $6.99
Mac App Store continues 'Get Stuff Done' promotional sale | MacNN (07:00 pm EST, Thu February 7, 2013)
(
mac app store - Google 検索
/
apple store app - Google 検索
)
【Apple Brothers 関連記事】