DIGITIMES
が、
iPad mini
の解像度2,048×1,536ピクセルのRetinaディスプレイを踏査した次世代モデルの生産コストは1台あたり12ドル以上増えるだろうと伝えています。
解像度1024×768ピクセルの7.9インチディスプレイを搭載した現行の
iPad mini
(Wi-Fi 16GBモデル)の部品コストは、1台188ドルと
試算
されているので、次世代モデル「iPad mini with Retina」の部品コストは1台200ドル以上になると推測しています。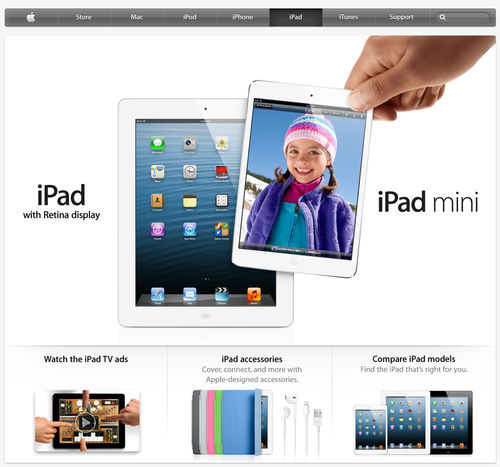 【Abroの勝手な予想】
次期iPadシリーズのラインナップは、現行の
iPad mini
も販売継続され「16GBモデル 299ドル〜」となり、iPad 2は販売終了で、iPad mini Retinaディスプレイモデルが「399ドル〜」になるんじゃないかな??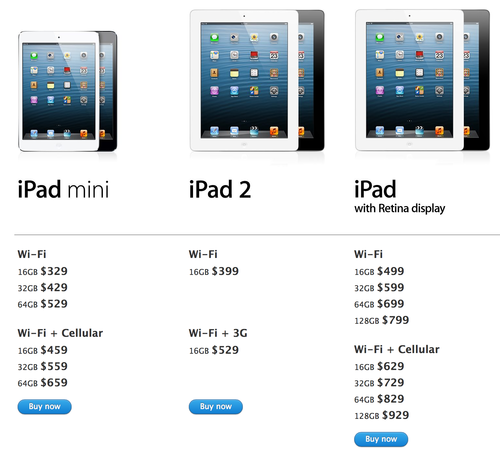 Abro的には、Retinaディスプレイモデルのストレージ容量は32GBスタートになるといいなと、勝手に期待しています。あと、iPad mini Retinaディスプレイモデルにも128GBがラインナップすると良いなと。。。
iPad mini風のデザインを採用した 9.7インチ
iPad Retinaディスプレイモデル
の次世代モデルも含め、春・夏・秋のどこで発表されるのかも注目ですね。
(by Abro)
【関連記事】
Retinaディスプレイ搭載「iPad mini」、部品コストは1台200ドル超に?:APPLE LINKAGE(2013/2/18 18:34)

DIGITIMESが、次世代「iPad mini」に2,048×1,536ピクセルのRetinaディスプレイが搭載された場合、1台当たりの部品コストが12ドル増加すると伝えています。

次世代iPad miniにRetinaディスプレイが搭載され、他の部品コストが現行モデルと同じだった場合、部品コストは1台200ドル超となるだろうとしています。iPad miniは329ドル〜で販売されています。

Commentary: Retina display for next iPad mini? - DIGITIMES [Monday 18 February 2013]

Apple may introduce the new iPad mini with resolution of 2,048 by 1536, and that would increase the device's production cost by more than US$12/unit. If the prices and specifications of all other components stay the same, the new iPad mini with a Retina display will carry component costs above US$200/unit.

Despite the fact that no one knows when Apple will introduce new tablet products, most believe the new generation of iPad mini will upgrade the resolution from the series' present 1,024 by 768 to the fourth generation iPad's 2,048x1,536.

According to iSuppli, the price of the 7.9-inch panel is around US$32/unit and the total material cost of entry-level iPad mini is around US$188/unit. If iPad mini adopts the Retina display, the dots per inch (DPI) will be higher and the brightness of the backlight modules will have to improve. This also means the number of LEDs used will increase, and therefore market observers believe the total cost for iPad mini will increase by more than 30% if it is equipped with the 7.9-inch Retina panel.

Apple's share in the tablet market began to decrease in the third quarter of 2012 and by the fourth quarter, the market share slipped to around 44% from 70% in the beginning of the year.

Market observers believe the global demand for tablets in 2013 is close to 180-240 million units and the 7-inch segment will account for 45-60% of total shipments. Eyeing this market segment, firms such as Acer and Asustek have introduced new models with retail prices around US$149-159/unit. In addition, the Nexus 7 by Google and Asustek is reportedly to be reintroduced with Full HD panels while the price stays the same at US$199/unit in the second quarter of 2013.

Furthermore, Samsung and Acer both plan to introduce 8-inch tablets in the second quarter to compete with the iPad mini. Acer's 8-inch tablet will be priced around NT$6,000/unit (US$202/unit).
(
iPad mini - Google 検索
/
ipad 128gb - Google 検索
/
iPad - Google 検索
)
 iPad mini & iPad Retina Display (第4世代) の価格
■ iPad mini Wi-Fiモデル

16GB US $329 (28,800円)
32GB US $429 (36,800円)
64GB US $529 (44,800円)

■ iPad mini Wi-Fi + Cellularモデル

16GB US $459 (39,800円)
32GB US $559 (47,800円)
64GB US $659 (55,800円)

■ iPad 2

Wi-Fiモデル 16GB US $399 (34,800円)
Wi-Fi + 3Gモデル 16GB US $529 (45,800円)

■ iPad Retina Display (第4世代) Wi-Fiモデル

16GB US $499 (42,800円)
32GB US $599 (50,800円)
64GB US $699 (58,800円)
128GB US $799 (66,800円) NEW 

■ iPad Retina Display (第4世代) Wi-Fi + Cellularモデル

16GB US $629 (53,800円)
32GB US $729 (61,800円)
64GB US $829 (69,800円)
128GB US $929 (77,800円) NEW 


※ 2/5現在、日本の Apple Online Storeでは第4世代iPadおよびiPad miniのWi-Fi + Cellularモデルの販売はされていません。

■ 比較: MacBook Air (Mid 2012)

11.6-inch 64GB ¥84,800 (US $999)
11.6-inch 128GB ¥94,800 (US $1,099)
13.3-inch 128GB ¥102,800 (US $1,199)
13.3-inch 256GB ¥128,800 (US $1,499)
〓
ソフトバンクオンラインショップ (
SoftBank Onlineshop)


〓 SoftBank SELECTION:新製品
◎ au by KDDI
iPad mini / iPad | au
■ au Online Shop(エーユー オンライン ショップ)
iPhone 5 | au(iPhone販売店)
【Apple Brothers - 関連記事】