Appleが、 watchOS 2.2 と iOS 9.3 のサポートを含む「
TestFlight 1.3.2
」を App Store で公開しました。
▶ Appe Store:
TestFlight - Apple
TestFlight (無料)iTunes K.K.


(※ 2016.2.12 時点の価格です)



カテゴリ: ユーティリティ
リリース日: 2014/09/09 (更新: 2016年2月11日)
バージョン: 1.3.2
サイズ: 3.6 MB



バージョン 1.3.2(更新: 2016年2月11日)
Includes support for watchOS 2.2 and iOS 9.3, as well as minor stability and performance improvements.


▪︎
TestFlight Beta Testing - App Store - Apple Developer
TestFlight Beta Testing makes it easy to invite users to test your iOS, watchOS, and tvOS apps before you release them on the App Store. You can invite up to 2,000 testers using just their email address.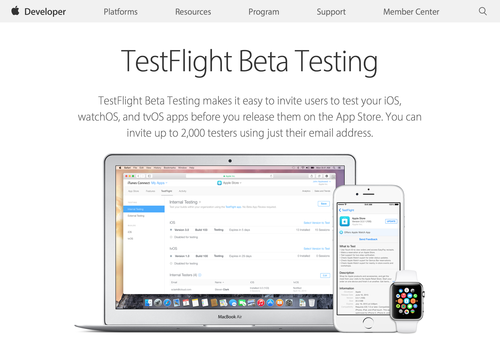 ▶
Apple Developer
:
Platforms - Apple Developer
/
News and Updates - Apple Developer
(by Abro)
【関連記事】
(
TestFlight - Google 検索
)
【Apple Brothers - 関連記事】