August 30, 2008
Yukata Elegance: "Wa-bijin wo mezashite"                浴衣のエレガンス:「和美人をめざして」の竺仙浴衣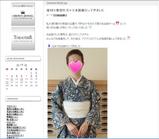 One of my favorite blogs in Japanese on dressing in kimono is "
Wa-bijin wo mezashite
." The title of the blog means "Aiming to become a Japanese-style Beauty," and judging from her photos on the blog, she is quite a success!.
The blog author added this post on August 8 of this year (2008) when she wore this high-end yukata to an aquarium in Tokyo with her fellow students of a kimono-wearing school. She made a witty, and telling comment, right at the start of this post, saying the title of the event sounded like the title of a murder-mystery drama on Japanese TV:
『きもの・ゆかたで夏のお出掛け〜』
"Summer Outing in Kimono-Yukata"
It doesn't really sound the same in English, does it? For example, at this time in 2006, on August 7, TBS had a Monday night murder-mystery titled "Kyoto Yuzen Mystery—Murder at the Secret Flower Room"
「京友禅の謎〜華の密室殺人事件〜」
. Yuzen is a traditional kimono dyeing technique for sumptuous kimonos, and the drama was bound to have lots of beautiful women wandering around in kimonos with the background of Kyoto scenery. It really can't hardly get any better for a good murder-mystery. Luckily, the blog author's outing seems to have been a success, with no untoward happenings.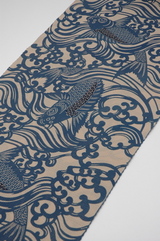 The author, Wabijin for short, is wearing a yukata with a pattern of carp swimming upstream from the prestigious yukata fabric shop, Chikusen
竺仙
. I do not know where the author purchased her yukata, probably at a proper kimono shop, and perhaps she gets a discount through her kimono-wearing classes. In any case, at the online kimono shop
Maruei
, this fabric goes for 51,450 yen and the tailoring fee is 9,240 yen. If you want a proper kimono collar, instead of a regular yukata collar it is an extra 1,575 yen. I am actually surprised the tailoring is so inexpensive. I wonder if that means it is machine tailored instead of hand-sewn? In either case, the shop requests you to send in your kimono dimensions so they can tailor it to your personal size.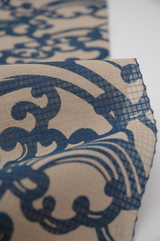 The fabric is woven in the cotton kōbai weave, with the coarse and fine threads alternating every few steps in both the warp and weft to make a regular checkered-like effect in the cloth. The fabric is then dyed by Chikusen using a traditional Edo period (1600-1868) technique of stencil dying called Chū-gata 中形 (mid-size repeating pattern), which was such a popular technique for yukata it actually became another term for yukata during the Edo period.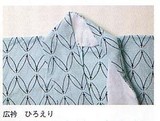 According to her blog post, Wabijin had her yukata tailored with the wide kimono-style collar called a hiro-eri 広襟. Yukata collars are usually half as wide so the yukata can be put on easily without fussing with the collar. A wide kimono-style collar must be folded over before wearing, but then you can adjust the width of the collar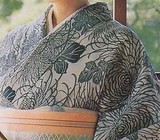 showing to your taste and size. It is also a bit more firm, being folded over, and keeps its shape better.
A yukata is basically an unlined summer kimono made of cotton. Besides the cotton fabric, the other basic difference between yukata and kimono is whether it is tailored with a narrow yukata collar or a wide kimono collar. Although, many high-end yukatas, such as this one, are tailored with this wide kimono collar to make it more elegant. Wabijin further dressed-up her yukata by wearing a proper kimono under-robe called a nagajuban, the white collar of which can be seen at her throat. She also wore tabi socks and kimono zori sandals, whereas one usually goes barefoot when wearing yukata geta wooden clogs.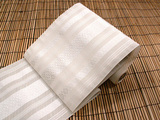 Instead of wearing a half-size obi usually paired with a yukata, Wabijin increased the elegance of her look even further by wearing a Nagoya obi, typically worn with kimono. Her Nagoya obi is a white silk sha-gauze semi-transparent weave Hakata style obi with a
kenjō
pattern. She has it tied in a single-layer taiko bow.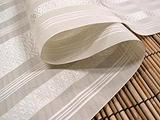 If you scroll down to the end of her post you can see that many of the other ladies in yukata are also wearing a Nagoya obi tied in a taiko bow. She demurely confesses her frustration that she couldn't get the thin material of the obi to stay perfectly straight, but from personal experience, I say she has done an excellent job with this very difficult style of floppy obi material.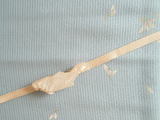 If you wear a Nagoya style obi in a taiko bow, you also need a obiage sash and obijime cord to hold it in place. Here she is wearing an aqua colored obiage sash in a ro-gauze weave, paired with a pink obijime cord and mother-pf-pearl shell clasp in the shape of a carp, to match the pattern of her yukata.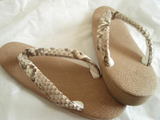 Both her zori sandals and kimono handbag are made from woven banana fiber. She jokes about the hana-o straps being made from python snake skin, but her friends reassured her that the straps match the image of carp scales in keeping with her outfit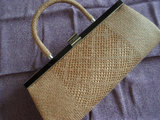 Wabijin may be aspiring to be a Japanese-style beauty, but she already fulfills her aspiration beautifully, and is certainly herself a model for inspiration.

Kimono & Yukata Archives
*Click Blogmura logo below for other blogs (in Japanese) on Kimono
(and increase my ranking there!)