February 25, 2012
A Few of My Favorite (and Most Worn) Things
Naomi (IG) posted a "challenge:"
Kimono Challenge #3 – Your most used kimono item(s) not counting jubans, datejimes etc)
And I responded. My most used items: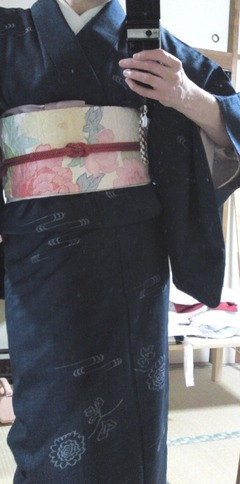 Indigo Kasuri (Ikat) Tsumugi
(which may or may not be a Yonezawa Tsumugi 米沢紬)
This is one of the two kimono I wear most. It is also one of the first kimono I bought once I started trying to wear kimono regularly. As an indigo dyed kasuri-weave, it is just about as informal a winter kimono as it gets, more or less equivalent to designer jeans at best. Like blue jeans, it just matches everything, which makes coordination both easy and fun, and I can just throw it on and go out and about with little worry and care. Because of its informality, when I am lazy or in a hurry or just feel like having fun, I often wear it with a hanhaba (half-width) obi, instead of the more appropriate Nagoya type of obi seen here, (which is a Hassun obi). I tend to wear this casual kimono at the very beginning of the awase (lined kimono) season in Fall and the very end of the awase season in Spring.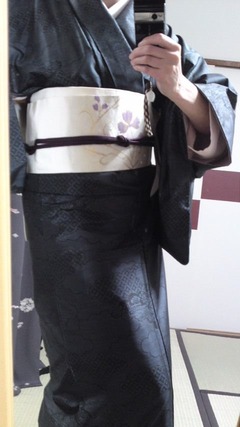 Blue Ōshima Tsumugi
This blue Ōshima is nearly as casual as the Indigo Kasuri Tsumugi above. However, Ōshima kimonos are somewhat expensive and therefore fancy-dress for about town, shopping at Ginza or going to the theater and the like. However, the blue color of this Ōshima dresses it down and makes it much more informal than an Ōshima otherwise would be. Whereas the Indigo Kasuri Tsumugi above has a soft nubby matte texture, this Ōshima has a shiny surface and the kind of waxy stiff feel common to Ōshima kimonos, and caused by their unique dye process. Although I have certainly been known (infamously so?) to also wear a hanhaba obi with this blue Ōshima, typically I wear a slightly classier Nagoya obi with this kimono, than I do with the Indigo Kasuri Tsumugi above. Also, I tend to wear this kimono in the peak of the winter months, December and January. In fact, I would be wearing it right now, but it is at the kimono shop having its sleeves lengthened.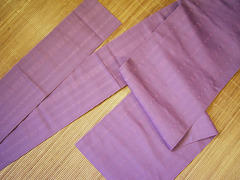 Maroon Hakata Nagoya Obi
Basically I only bought this obi (probably on J Yahoo auctions) just because it happened to be purple and cheap, but nevertheless I ended up wearing it nearly all the time. It just matches, I do believe, every kimono I own (of the proper formality level). When I do not have enough time or just cannot make up my mind about my ensemble coordination, when in doubt, this obi will always match—wonderfully convenient! It is not really purple or maroon, but rather a dusty plum shade, and seems to adapt well to which either of the colors schemes I pair it with. The camera doesn't seem to know what color it is either, sometimes it comes out purple and sometimes it comes out as a light maroon in the photos I take.
If you have been wondering what a Nagoya obi is, here you can see its shape, which is pre-sewn in this form to make it easier and faster to tie into a Taisho Bunko bow. An Hakata obi is so-named for its hakata-weave, from its place of origin in Fukuoka prefecture. Many assume that the trademark kenjō" 独鈷 design, also called "tokko" 独鈷, is unique to Hakata obi, but that is not so. I have often wondered if the Geiko in Kyoto aren't really wearing a Kyoto Nishijin obi with a kenjō design, because wouldn't it be odd if they wore an obi from Fukuoka instead of Kyoto?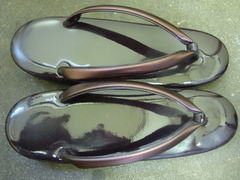 Maroon Zōri
Once upon a time, I only had two pair of zōri, one for very formal occasions like the Tea Ceremony, and this pair I wore for everything else. These zōri also pretty match all but the most formal kimono I own. I wore these zōri so much that last year the soles wore through, and I had to take the zōri to a shop to have the soles replaced. Since it took a few weeks, in the meantime I bought my third pair of zōri.
It is not impossible to wear geta with kimono, but typically zōri are worn with kimono and geta with yukata.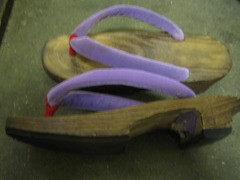 Wooden Geta with Purple Han-o Thongs
These are absolutely my all-time favorite geta, and probably my favorite footwear all around. I wear them all during the summer with Western clothes, as well as yukata, and even sometimes wear them in winter (with socks) to run out to the nearby convenience store. I only bought them in an emergency as a stop-gap measure when the thongs of my other geta broke during the Gion Matsuri festival in Kyoto. They match everything (being purple) and don't hurt my feet, and were cheap enough I don't worry about them. I even on occasion wear them with kimono and with tabi socks (which is considered less than "iki"); mostly I do this when I am going to being wearing kimono in a garden or park, or walking around a lot, and do not want to ruin my zōri.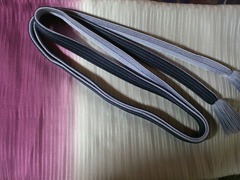 Grey and Crimson Obiage and
Blue and Periwinkle Obijime
Now that I have just recently bought these in the last couple of months, I find them very handy, and wear them all the time. Both the obiage and obijime are reversible, and I can wear them with one color showing, or the other showing, or both colors showing simultaneously. With just these two, I can match almost any of my kimonos from casual to semi-formal.
See also:
*
Handy Things for Everyday-Wear (Fudangi) Kimono
*
My Favorite Geta Wooden Sandals
*
Which do you prefer? Oshima or Yuki Tsumugi?
(AF's Tsumugi Collection)
*Click Blogmura logo for other blogs (in Japanese) on Kimono
(and increase my ranking there!)