December 13, 2012
To Tattoo or Not in Japan: Free Speech vs. Hate Speech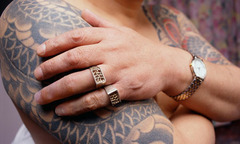 (Granted a bit out of date now…)
At the risk of being offensive, the simpleton thinking of many gaijin-san's continues to astound me. In what way?
1) The arrogance to make moral judgments on a culture they know little or nothing about. 2) The arrogance to assume their pronouncements are correct, despite being completely ignorant of the background or situation. 3) The arrogance of not even taking into consideration that maybe they could make the effort to find out about the background first before being judgmental. 4) The arrogance of making judgment on other cultures from their own cultural standpoint; i.e. the "I am right because I am white"mentality.
So what brought his up? Hashimoto-san forbidding tattoos for the Osaka civil servants. And, the gaijins' responses to it.
Osaka's Hashimoto puts municipal workers' tattoos into the limelight
By MIZUHO AOKI Staff writer
The Japan Times Online Friday, May 18, 2012

Osaka Mayor Toru Hashimoto caused another public stir recently when he asked all city workers if they have a tattoo and even suggested those who answered yes should quit the municipal government.

Earlier this month, the city asked 33,546 employees, excluding those at the board of education, if they have any tattoos after an incident in February in which a city worker showed off his tattoo and scared children at a welfare facility.

The results, announced Wednesday, showed that 110 employees said they have one or more tattoos. Of them, 98 said they are on a part of the body that can be seen by other people, such as the face, neck, arms, hands, legs or feet.

"If they want to have tattoos, they should quit working for the city and go to the private sector," Hashimoto said Wednesday.

"There may be places such as the fashion or food industries where it can be allowed, but there is no such option for civil servants." (MORE)
Let's think about this for a bit.
Instead of making the quick assumption that Hashimoto-san is just some kind of ignorant bigot, (whether he is or not is not relevant), why not try to figure out why he might be compelled to do such a thing. Hmm, I wonder why civil servants shouldn't have tattoos in Japan? I wonder why civil servants (think postal workers etc.) with tattoos freak out ordinary people and small children? Hmm, I wonder what significance tattoos have in Japan?
What are the associations with tattooing in the case of Japan?
In case you don't already know, convicted criminals in Japan, assuming they weren't executed, were tattooed marking them forever as having a criminal history. This custom of tattooing criminals goes back at least 200 years if not longer. Need I say it? It is no longer done today. The criminal element, and bad-guy wannabes, who had more money than common sense, no doubt due to their nefarious activates, could show off their success and the ability to withstand the grueling pain of traditional Japanese tattooing by having themselves tattooed, which could nevertheless be beautiful works of art. Despite the beauty of many of these tattoos, those tattooed were very obviously members of the criminal element, or those who aspired to the same bad-guy cache value.
Hmm, let's try to put this in an American perspective.
Do you really want to go to the post office and purchase your stamps from someone wearing low-riding pants with their underwear showing (the style adopted from US criminal culture where belts are confiscated in jail), a shaved head with some obscure markings possibly gang related, and maybe signing the other postal workers with gang hand signals? Now this person might not actually be a reformed convicted criminal, mind you, maybe this person just likes the style and dress of hip-hop, or is just trying to be cool. Still, do you consider this the appropriate dress and manner for a postal worker? Would it scare you or be off-putting? How would your grandmother feel? What if it wasn't a postal worker, but some other government worker where your grandmother would have to go for something like a consultation on her pension?
What is even more amazing, is the same gaijins who declare "you can't forbid people from having tattoos, it is a form of freedom of expression," are very likely the first people to adopt PC speech. What about "hate speech?" In some US sates "hate speech" is even a crime, punishable most often by a fine. So there are limits even in the US on free speech. If it is deemed improper to use certain words and phrases offensive and hurtful to others, why does that not extend to visual forms of expression that may be offensive and hurtful to others? And in Japan, for many tattoos are downright threatening, like swastikas or white hoods in the West.
And, finally, why the heck do you care about Hashimoto-san and tattoo-wearing rules in Osaka, it has nothing do with you anyway?