January 25, 2013
2013 NHK Taiga Drama: "Yae's Sakura" January: Eps. 1 - Eps. 4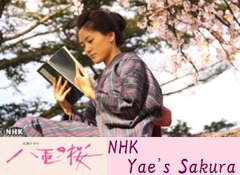 NHK World Premium > Schedules > Historical Drama "Yae's Sakura"
NHK: "The historical drama for 2013 is the life story of Yae Yamamoto, a woman born to a family belonging to the Aizu clan in Fukushima Prefecture in the late Edo Period, who later becomes known as Yae Niijima. Yae keeps exploring her potential all her life with the samurai spirits passed down in Aizu people, while bravely living through the age of turmoil, readied as a soldier armed with a gun."

Historical Drama "Yae's Sakura" Eps. 1
Jan 7 (Mon) 3:00-4:14
Born as the daughter of a gunnery mentor in the Aizu clan in 1845, Yae grows up to be a strong-minded girl with a competitive spirit who often is quite a handful even for her parents. Yae holds admiration for her elder brother, Kakuma, who is excellent in both literary and military arts. Witnessing Kakuma's splendid shooting with a gun, Yae becomes captivated by the art of gunnery, however, her father Gonpachi disapproves and scolds her severely. In the fall of 1851, Yae interrupts an important military training of the Aizu clan which causes an incident; Yae is rescued though by Katamori Matsudaira, the head of the Aizu clan. Her encounter with Katamori changes her life later on.

Historical Drama "Yae's Sakura" Eps. 2
Jan 13 (Sun) 20:00-20:44
Jan 14 (Mon) 3:00-3:44
Jan 19 (Sat) 13:05-13:49
Kakuma, who is now in Edo to learn western gunnery at a private school run by Shozan Sakuma, feels left behind, learning the other clans have been hungrily acquiring western technology at the Shozan School ahead of the Aizu clan. Meanwhile in Aizu, Yae is convinced by her parents to let go of her obsession with gunnery. After the arrest of Shozan, Kakuma had no choice but to return back to Aizu where he is surprised to see Yae competing with a man in the lifting of a large straw rice bag. Also surprised and touched by Yae's self-acquired deep knowledge in gunnery, Kakuma decides to teach Yae the rudiments of gunnery.

Historical Drama "Yae's Sakura" Eps. 3
Jan 20 (Sun) 20:00-20:44
Jan 21 (Mon) 3:00-3:44
Jan 26 (Sat) 13:05-13:49
While Yae is eagerly reading a book about gunnery on top a cherry tree, she encounters Shonosuke Kawasaki, Kakuma's fellow at the Shozan School. Shonosuke, came to Aizu to lend a hand to Kakuma, who is preparing for the establishment of Rangaku (western studies) academy. However, Kakuma provokes antipathy from conservative members of the Aizu clan and is ordered to stay home. Learning Yae's passionate devotion for gunnery, Kakuma recalls Shozan's words to keep moving forward even when facing obstacles. Kakuma sets about designing a new-type gun together with Yae and Shonosuke.

Historical Drama "Yae's Sakura" Eps. 4
Jan 27 (Sun) 20:00-20:44
Jan 28 (Mon) 3:00-3:44
Feb 2 (Sat) 13:05-13:49
In 1858, Kakuma is pardoned from confinement with the help of Tanomo Saigo, the chief retainer of the Aizu clan. Shonosuke is appointed to a professorship on Kakuma's recommendation. Kakuma marries a woman named Ura. Meanwhile, Naosuke Ii, a senior aide in the Tokugawa Shogunate, concludes a trade treaty with the US without permission from members of the Hitotsubashi-Tokugawa family, including Nariaki Tokugawa, the head of the Mito clan. Outraged Nariaki rushes to see Ii, however, is instead imposed a suspension order. Although Katamori appeals to Ii to remit the punishment on Nariaki, the attempt is futile.

LINKS:
NHK World Premium > Schedules >
Historical Drama "Yae's Sakura"
(in English)
NHK 大河ドラマ「八重の桜」Homepage:
http://www9.nhk.or.jp/yaenosakura/
Character Chart 登場人物相関図:
http://www9.nhk.or.jp/yaenosakura/cast/aizu.html

EXHIBITION:
"Yae's Sakura" Exhibition:

* Edo-Tokyo Museum: 3/12 (Tue) 〜 5/6 (Sun)
* Fukushima Museum, 5/17 (Fri) 〜 7/3 (Wed)
* Hiroshima Prefectural Art Museum, April 21 〜 June 3
* The Museum of Kyoto (Kyoto Bunka Hakubutsukan), 7/13 (Sat) 〜 9/1 (Sun)
2013年NHK大河ドラマ特別展 八重の桜
*
江戸東京博物館
2013年3月12日(火)〜5月6日(月・休)
* 福島県立博物館 2013年5月17日(金)〜7月3日(水)
* 京都文化博物館 2013年7月13日(土)〜9月1日(日)
*Click Blogmura logo for other blogs (in Japanese) on Taiga Drama and Jidai Geki (and increase my ranking there!)