January 26, 2013
The Travelling Kimono Round Two: AF's Coordination Conundrums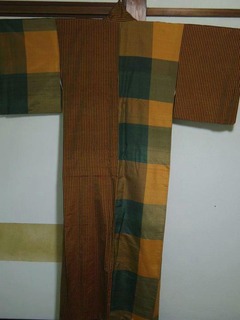 The Sisterhood of the Travelling Kimono originated from an idea proposed by Naomi (of ImmortalGeisha.com and KimonoAsobi.com) to her fellow Facebook kimono friends, in which it turned out others had been pondering similar thoughts! The idea was quickly and enthusiastically embraced by the kimono community and grew from a small handful of participants to 40 people across many countries!

One kimono will be selected and sent all around the world to fellow kitsuke enthusiast, who will then create an ensemble representing their personal tastes and style, take photos to share and then send the kimono off to the next person. These photos will be shared both on the website and the Facebook page.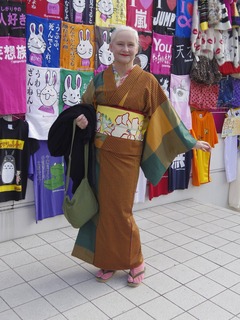 Sheila gave me permission to post her WONDERFUL ensemble!
I am second up with round two with this "katami-gawari" stripe and plaid kimono in yellow, red, and green. Sheila set the bar high with her first ensemble, so I really feel challenged. It is nigh on impossible to do any better, but the challenge is a great deal of fun. I can't wait to see others' ensembles as well!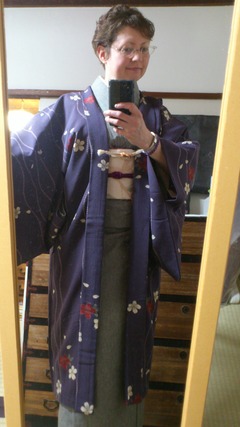 Landmark: Asakusa
We are also supposed to take pictures of ourselves in the kimono with some major landmark. I am thinking of going to Asakusa in Tokyo, where I can take pictures with the famous giant lantern of Sensōji, the Nakamise lane of shops to the temple, the incense basin of health, the temple itself, the Sumidagawa river, the Sky Tree in the background, and perhaps a rickshaw to travel around in. What fun!
Purple Sakura Haori
I plan to wear this purple haori with a motif of sakura blossoms in red and white. Likely I will also wear my nagajuban with the purple shibori han-eri collar. The problem is what obi, and what colors to choose for the obiage sash and obijime cord.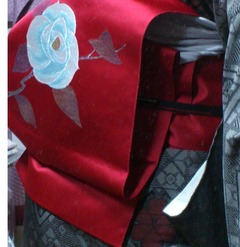 Choice One: Red Obi with Camellia
At the moment I am thinking this red synthetic obi with camellia flowers in shades of light metallic blue might be the best bet, as it will both "pop" the red in the stripes of the kimono, and the red sakura blossoms in the obi. To brighten it up a bit, perhaps a bright yellow obiage, and either a dark blue or a light blue obijime.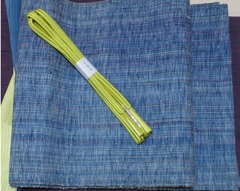 Choice Two: Blue Weave Obi
First I was considering this blue kisawa-weave obi, perhaps with a red obiage and bright yellow obijime, but in the end thought it might be kind of drab.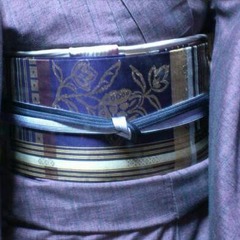 Choice Three: Purple Antique Nishijin Obi
Looking at different obi in my collection, I ran across this purple antique obi, and thought it might work too, with a white chirimen obiage with floral roundels in rindashi shibori, paired with a bright crimson obiage, but perhaps this obi is a bit too dull in color too… Especially with the purple haori.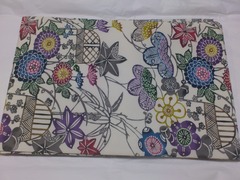 Choice Four: Bingata Obi
On the other hand, this Bingata obi might really brighten it up, perhaps paired with a bright red obijime and yellow obiage…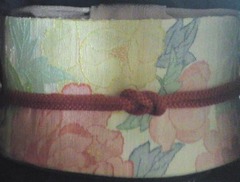 Choice Five: Colorful Peony Hassun Obi
There's always this obi as well, but among other problems, it might be too similar to Sheila's obi, and yet with less impact…

What to do, what to do… Any suggestions?
*Click Blogmura logo for other blogs (in Japanese) on Kimono
(and increase my ranking there!)