March 04, 2013
The month in kimono: January 2013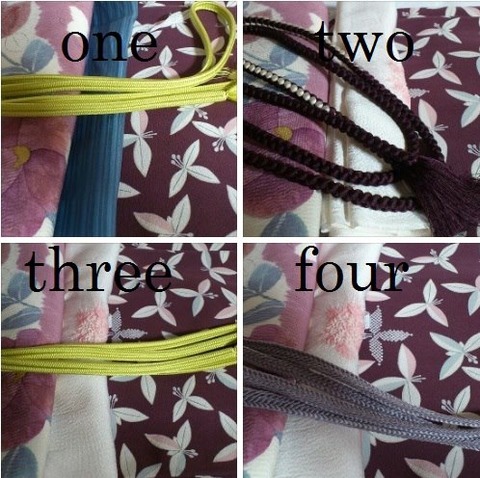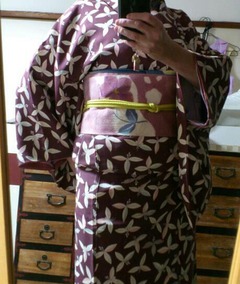 Maroon Komon with Pink Tsujigahana obi
At the beginning of January, I had two different maroon komon kimono out, trying to decide what to wear for the first lesson of the year, which in the end was cancelled due to snow. I also had this pink tsujigahana obi out and about because I had just purchased it along with the
Broken Check Blue Tsumugi Kimono
(紬 紺鼠色 変わり格子風), and found that these two looked surprisingly good together. Trying to make my coordination more interesting from my ordinary set pattern, I asked all and sundry for advice. As I recall, choice
ONE
and
THREE
were the most popular, and choice
FOUR
was my first idea. I went with choice
ONE
, and accessorized the obi with a fluorescent yellow obijime from Kururi and blue and yellow obiage from Awai. I wore my lavender nagajuban with purple shibori collar, black and red kimono cape and pink rabbit fur scarf, and mostly likely my custom-made weave zōri from Awai.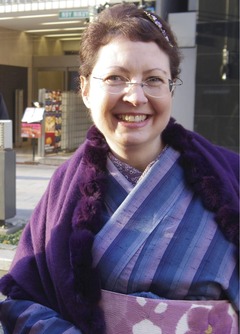 Blue and Purple Stripe Tsumugi with Pink Tsujigahana obi
Next up was the Kimono de Ginza, which is every second Saturday of the month. Here I wore the same pink tsujigahana obi, with this stripe tsumugi kimono, with the same florescent yellow obijime, and also the same blue and yellow obiage. Lots of purple in this ensemble, with a purple shibori han-eri collar and purple fur-edged shawl. I also wore my much warmer custom-made woven zōri with Hakata straps. NHK International was there that day and interviewed many of us, but it took so long that by the time they got to me, I was shaking with cold. There was also several young girls there dressed in adorably cute retro kimono ensembles.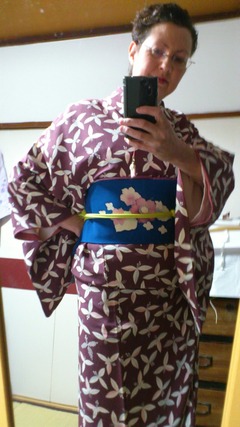 Maroon Komon with Blue Floral obi
The next tea lesson (actually the first because the earlier one was cancelled) just happened to be on the same day as a lecture on kimono at the NHK culture center by Nagaoka-sensei, who curated the "
Kimono Beauty
" exhibition at the Chiba City Museum. Oh, coordination woes… I wanted to wear something a bit stylish and retro, but not too flamboyant, and also something not completely inappropriate for tea lesson afterwards.
This is probably the only kimono I have that is even remotely Taishō or even early Shōwa-esque. It is hard to see in the photo but the motifs of the kimono are in Taishō-esque pastel shades of pink, blue, and cream. I thought a blue obi would brighten the kimono, and obi with large flowers would be in keeping with the retro style. I accessorized it with the Awai crimson and grey obiage and fluorescent yellow Kururi obijime. In retrospect, I think a bright green obijime would have been better, but since I don't own one… Since I was going on to tea lesson afterwards, I wore a simple pale silk nagajuban with a plain white color. You can see the pink of the nagajuban at my sleeve opening.
Tea sensei loved the kimono, saying it was quite appropriate for January, since the stylized design resembles the shuttle-cocks for the battledore traditionally played for the new year. On the other hand, she didn't think my coordination was appropriate for tea, but I explained that I was dressed playfully for the kimono event, and then had continued onto the tea lesson in the same ensemble, which seemed to mollify her. Since I knew I would be going on to tea lesson, I wore my more formal grey and silver zōri, which I hadn't worn in a while, and was surprised how cold my feet were in them. For warmth, I wore my black and red kimono cape and grey rabbit fur collar. Looking back now, I am surprised I didn't wear my brown boucle wool kimono cape.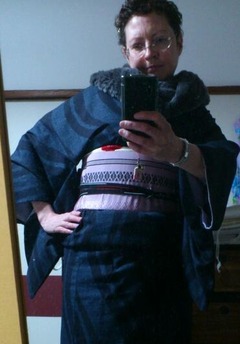 Black & Blue Curvy Stripe Yuuki Tsumugi with Lavender Hakata obi
And now for something different…
(or maybe not?)
It is amazing how I always seem to stay with the same color scheme per month; it is partly just serendipitous because I leave the same kimonos and accessories out for a month and just mix and match, until I put them away and start with a new batch for the next month.
The next event was to go with Sheila to the "
Kimono Beauty
" exhibition in Chiba. We both wanted to see the exhibition, and Sheila wanted to hand-off the
Travelling Kimono
to me. I do believe, it turns out we both went in black and blue Yuuki tsumugi kimonos, but hers had a faint purple cast to the blue. I wish we had gotten a photo of the two of us together that day. The Hakata obi I am wearing was also a present from Sheila (thank you!), and I accessorized it with a white crepe obiage with red flowers in shibori, and a black and red obijime cord.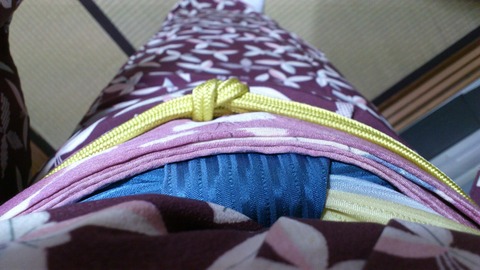 *Click Blogmura logo for other blogs (in Japanese) on Kimono
(and increase my ranking there!)