February 05, 2013
Kabuki actor Ichikawa Danjuro passed away on February 3rd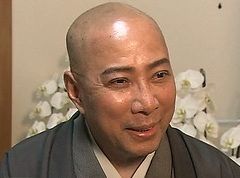 Leading Kabuki actor Danjuro dies
NHK World
Feb. 3, 2013
A leading Kabuki actor Ichikawa Danjuro died of pneumonia in Tokyo on Sunday night. He was 66.

Danjuro was born into the Ichikawa house of Kabuki actors that has a tradition of more than 300-years. He began performing Kabuki at the age of 7. He assumed the name of Danjuro in 1985 and became the 12th Ichikawa Danjuro.

He was diagnosed with acute promyelocytic leukemia in 2004. After 2 years of treatment and rehabilitation Danjuro returned to the stage.

But in December last year he developed pneumonia. Danjuro cancelled his Kabuki performances for the month of January to undergo treatment.

The following article includes a video with comments by his son, Ebizo...
Kabuki star Ichikawa Danjuro dies after leukemia fight
News On Japan
Feb 04
Japanese kabuki star Ichikawa Danjuro has died after a long battle with leukemia, his family said Monday. He was 66.

Danjuro, whose real name was Natsuo Horikoshi, passed away at a Tokyo hospital late Sunday after suffering pneumonia, compounded by a compromised immune system.
Danjuro became the 12th actor to use the stage name in the Ichikawa family in 1985 and was known for playing masculine characters such as feudal-period warriors.

He was diagnosed with acute leukemia in 2004 but returned to the stage.

In 2007, he took part in the first-ever kabuki performance at the Paris Opera House, before receiving a bone-marrow transplant from his sister the following year.

歌舞伎俳優・市川團十郎さんが3日夜、肺炎で亡くなった。長男・海老蔵さんは4日朝、報道陣の取材に対して、「大きな愛のある人だった」と、涙をこらえながら語った。

The NHK article in Japanese with a video of an interview with Danjuro...
歌舞伎名優 十二代目市川團十郎さん死去
NHK NEWSweb
2月4日 2時0分
歌舞伎界を代表する人気俳優で、白血病の闘病を乗り越えて活躍を続けていた十二代目市川團十郎さんが、3日夜、肺炎のため東京都内の病院で亡くなりました。
66歳でした。

市川團十郎さんは、昭和21年、十一代目の長男として東京で生まれ、7歳のときに市川夏雄を名乗って初舞台を踏みました。

11歳で新之助、昭和44年には十代目市川海老蔵を襲名しました。
そして、昭和60年には300年以上の歴史がある歌舞伎界の大名跡、市川團十郎の十二代目を襲名しました。 (つづき)