February 09, 2013
AKB48 Idol Minami Minegishi shaved her hair
We all have heard about that by now, but who cares? Apparently just about everybody, not just Japan. Why, is a mystery to me.
In case you don't already know the story,
Minami Minegishi
shaved her hair in an act of remorse for spending a night with her boyfriend (dancer Alan Shirahama) when romantic relationships are not allowed for the members of the AKB48 group.
AKB48 峯岸みなみ 白濱亜嵐 お泊り愛 丸刈り坊主号泣謝罪!研究生に降格!
https://www.youtube.com/watch?v=C7fhsbj3WmI
I have not made a survey, and don't know the actually demographics, but my sense is that in Japan, the 20〜30s somethings think that maybe AKB48 members should be allowed to date; the 50〜60s somethings think that Minami Minegishi is a nutcase and went overboard about something not really so very important.
Personally, I think it served as an excellent publicity stunt, both for AKB48 and the member Minami Minegishi herself. Keep in mind, it is highly likely that Minami Minegishi had permission from AKB48's talent agency to post the video on youtube. Surely the talent agency didn't allow it to purposely make themselves look bad, so what must have been the purpose? I summit publicity. And, it seems to have worked…worldwide no less!
Not directly related, but there is a really cute Japanese idol famous for her "baby down" crew-cut hairstyle
(ベイビーショートヘアー
), ICONIQ, who was in a commercial for Shiseido's line of Maquillage makeup a few years ago.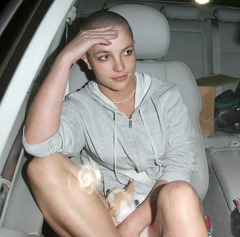 And didn't Britney Spears also shave off her hair a while ago, to a much less visually attractive result (this being one of the better pictures), for no understandable reason?
* See Also:

The Bald and the Beautiful: 8 Bald Yet Hot and Gorgeous Female Celebs