August 18, 2013
Kimono Calendar Aug 2013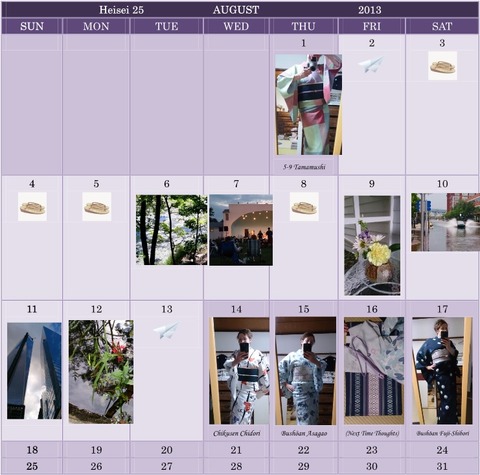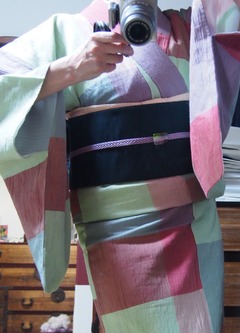 ・ 5-9 Tamamushi Kimono
「玉虫」市松調 小千谷縮
・Dark green
(濃萌葱)
sha-weave Hakata Nagoya Obi (Bushōan)
・Peach ro-weave obiage (Kururi)
・Lavender Lace Obijime (Rakuten)
・Glass Obidome in same colors as kimono (Kasōya)
・Lavender ro-weave nagajuban (Kururi)
・Black lacquer Azuma Geta (probably)
I ordered this kimono from my local kimono shop, Kasōya (華想谷), where I saw the fabric and fell in love with it. It is woven in many colors of green, pink, and purple making for a iridescent effect called "Tamamushi" after the bug of the same name that has an green iridescent shell. (BTW, the Tamamushi Shrine is so-named because the metal filigree was inlaid with the shells of this insect.) This kimono is part of the "5-9" project by Arecole to produce cool (temperature-wise) washable unlined
fudangi
(everyday wear) kimono that can be worn in the difficult months of May and September, when one should be properly wearing a
hitoe
kimono. There are cooler unlined kimono you can get away with in these months, such as
chirimen
ro-weave or summer Ōshima, but they are non-washable and pricey, not something to just wear everyday around the neighborhood.
(Note to self: this type of plaid must be popular this summer because I have seen similar in other colors in various magazines, such as UK Summer 2013, p. 187.)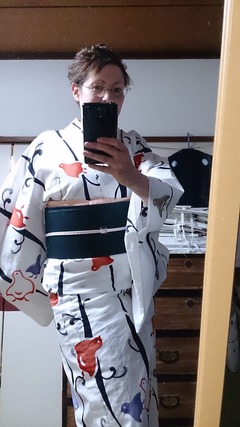 ・ Chikusen Chidori Yukata
「千鳥」竺仙さんの浴衣
・Dark green
(濃萌葱)
sha-weave Hakata Nagoya Obi (Bushōan)
・Peach ro-weave obiage (Kururi)
・Summer Obijime (Kyoto Erishō)
・Clear glass Obidome (Kyoto Erishō)
・Honey-color hada-juban (Wafure)
・Purple Velvet Hanao Geta (Kyoto Takashimaya)
Last Spring (2012) I joined a yukata class at the Ikebukuro Culture Center, and on the day we visited Chikusen we were allowed in the room with many rolls of that season's yukata fabric. As I have never seen this yukata in stores or magazines, and the staff at Chikusen had a fair amount of trouble finding it when I later called up to order it direct, I imagine it may well have been one of the fabric rolls made as display for the department store buyers but was never selected. It may even be the only one in existence at the moment. In my coordination here, I was trying for an "iki" (粋) Asakusa-esque style, by wearing a regular plain-weave white yukata with a Hakata Nagoya obi. Personally, I rather like the result.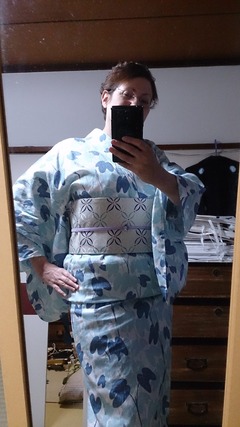 ・ Bashōan Asagao Vertical Ro-weave Cotton Yukata
「朝顔」撫松庵さんの浴衣
・Hanhaba Silk Obi
・Lavender Obijime
・Edo Kiriko Blue Cut- glass Obidome
・Honey-color hada-juban
・Purple Velvet Hanao Geta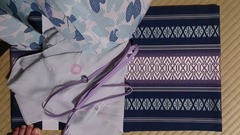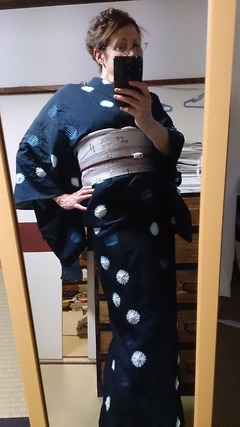 Bushoan Shibori Yukata
2013-8-17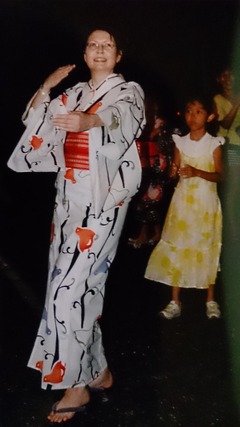 Chikusen Chidori (Plover) Yukata 2013-8-18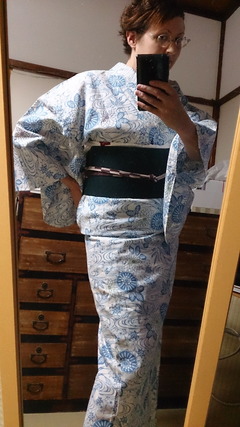 Men-koubai 2013-8-22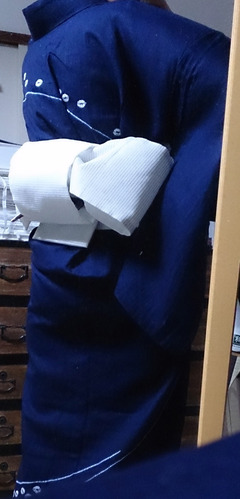 Shibori Houmongi Yukata
2013-8-24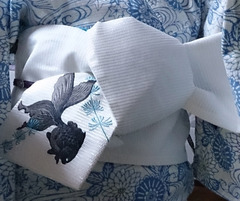 Cotton Koubai 2013-8-28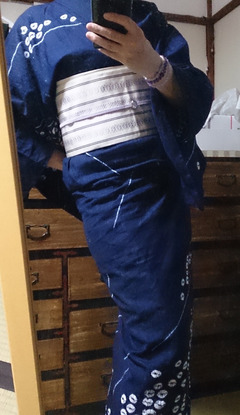 Shibori Houmongi Yukata
2013-8-31