May 01, 2019
You Say Iris, I Say Ayame (The Kakitsubata Poem)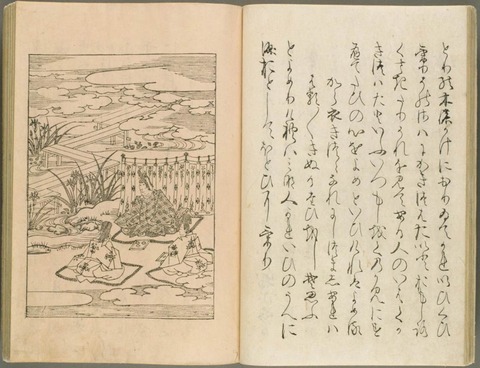 I am reposting this old post just because I like it, and because a Japanese friend asked for a modern Japanese translation of the Kakitsubata poem below.

The first syllables of each line of the poem spell-out "ka-ki-tsu-ba-ta." Just in case you hadn't noticed.

This is the poem:
伊勢物語 [九] 三河国八橋(愛知県知立市)
から衣     Karakoromo
着つつなれにし Kitsutsu narenishi
つましあれば  Tsuma shi areba
はるばる来ぬる Harubaru kinuru
旅をしぞ思ふ  Tabi wo shi zo omou

This is my interpretation of it in Japanese (for my English translation, scroll down):
「私の解釈」
なれたしまった大好きな着物のような奥さんがいるのよ、
私は長い旅で、遠くまで来てしまって、
色々な思い出があって、色々考えるわ。
*(また、考える(思う)「旅」のは奥さんとのつき合いのこと、結婚ってのこと、人生って何だかのこと、等々と私は勝てに理解している。)

This is the traditional explanation of the poem:
「全訳古語辞典」
唐衣を着続けて、躰になじむように、
妻が都にいるので、
はるばるやって来たこの旅を(悲しくて)思っている。
Iris, What's in a Name?
There is but one word in English, iris, to cover several related flowers the Japanese regard as distinct. Since they have different flowering seasons and poetic associations, it affects when paintings are displayed in homes or museums, and what kimono pattern can be worn when.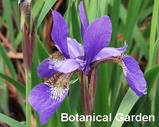 あやめ Ayame (Iris sanguinea)
Ayame, despite its pronunciation, is actually written with the characters for a completely different plant, not even in the iris family, called Shōbu (菖蒲). Ayame grows in fields and does not require the flowing water of a stream. Ayame blossoms in May and is now associated with the Boy's Festival of May 5th, but originally the plant associated with May and the Boy's Festival was Shōbu, the medicinal herb Calamus, the leaves of which are often added to bath water in Japan. "Ayame" forms one of the traditional color combinations (
kasane
), with blue or white on the outside and
kōbai
deep pink on the inside.
Ise Monogatari, Episode 52
あやめ刈り Ayame kari
君は沼にぞ Kimi wa numa ni zo
まどひける Madohikeru
われは野にいでて Ware wa no ni idete
狩るぞわびしき Karu zo wabishiki
Picking Ayame,
Through the marshes
You have wandered,
While I have gone out to the fields.
This hunting, so sad and tiring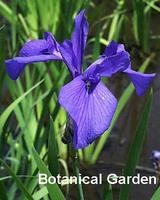 燕子花 or 杜若 Kakitsubata (Iris laevigata)
Unlike Ayame, Kakitsubata grow in marshlands, and blossoms slightly later, in late May. When one thinks of irises in the context of Japan, it is probably the Kakitsubata that most comes to mind, being immortalized in the
Tales of Ise
, attributed to the court noble Ariwara Narihira (825-889), and painted on the gold screens by Kōrin,
"Kakitsubata" (燕子花)
now housed at the Nezu Museum in Tokyo and the "
Yatsuhashi (八橋)
" screens now housed at the New York Metropolitan Museum. The first syllable of each line of the poem reads "Kakitsubata," the lexicography of "ha" and "ba" not distinguished in ancient times. "Kakitsubata" is also one of the traditional color combinations (
kasane
), with purple on the outside and
moegi
pale green on the inside.
Ise Monogatari, Episode 9
(Mikawa no Kuni Yatsuhashi) [Aichi pref, Chiryū City]
から衣    
Ka
rakoromo
着つつなれにし
Ki
tsutsu narenishi
つましあれば  
Ts
uma shi areba
はるばる来ぬる
Ha
rubaru kinuru
旅をしぞ思ふ  
Ta
bi wo shi zo omou
My Chinese robe,
Long worn in comfort,
So like the wife I have.
Having come so far along
I ponder this journey.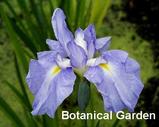 花菖蒲 Hana Shōbu (Iris ensata)
Hana Shōbu grows on the banks beside water and has the longest blossoming season, from May to July. Hana Shōbu is most closely associated with kimono patterns, since it can be worn from spring through summer, but annoyingly enough, the kimono pattern is usually called "Ayame" to further complicate the issue, because the traditional pronunciation is Hana Ayame. The term "Hana Ayame" also forms one of the traditional color combinations (
kasane
), with white on the outside and pale green on the inside. Pictorially, or perhaps, cinematographically, the image is associated with brides dressed in white kimono boating down a river lined with Hana Shōbu on their way to meet the groom. This can be seen for the month of June at the iris garden in Itako city, Ibaragi prefecture, see
嫁入り舟
for more information.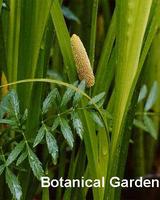 菖蒲 Shōbu (Acorus calamus)
Shōbu is completely unrelated to the iris family, but it also grows in marshy locations and they both have similar looking reed-like leaves. Shōbu is fragrant and is added to the bath water in May for its medicinal qualities; the origin of "aroma therapy"?
* Originally posted May 26, 2013
* Information and photos courtesy of Botanical Garden website; poem translations and other errs my own.
UPDATE
There is also a pale lavender fringed mini-iris, called
Iris japonica
, and
shaga
(射干 or 著莪) or
kochōka
(胡蝶花) in Japanese, the caracters 著莪 most frequently former used in Japanese haiku poems.
シャガ(射干;著莪)
(Flower pics taken 2018-04-21 (Sat) @ outside Tokyo National Museum)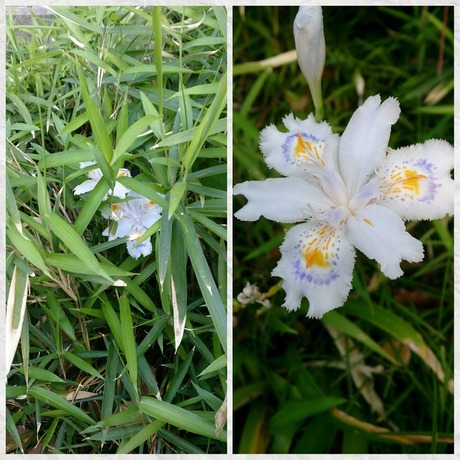 Similar to "Hime-shaga"
ヒメシャガ (姫射干)
,
Iris gracilipes
, which basically just looks like a mini-iris.