March 23, 2017
Buying a Kimono: Measurements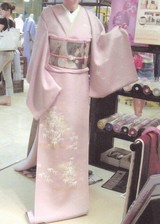 (originally posted 2008/02/24)
* Click images to enlarge
When you go to purchase a tailor-made kimono, first you must select the fabric. The Gofukuya-san (呉服屋 kimono shop) will display several choices in fabric, once you describe basically what you are looking for, what type of kimono (hōmongi, tsukesage, komon) and what types of designs and colors you are interested in. Then the Gofukuya-san will drape you in the fabric to give you an idea of what it would like on you as a finished kimono. This draping of kimono fabric to give an impression of the final form is called
chakusō
(着装) or
sōchaku
(装着). (This is a picture of me getting draped in kimono fabric at a small shop in the Lumine department store at Shinjuku station.)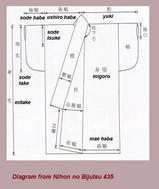 Once you have made the fabric selection, the Kimonoya-san will take your measurements for a tailor-made fitting. Measurements are called
sunpō
(寸法) in Japanese and a list of measurements is called a
sunpōhyō
(寸法表), so called because a
sun
(approx. 3.03 cm) was a measurement of length in pre-modern Japan. A proper shop will take all the individual measurements, so the kimono is really personally tailored, but some shops are less meticulous and only take a few measurements and then decide the rest with a set formula.
Except for a few exceptions, for the most part I order used kimono off the web. Since I am 164.5 cm in height, I have found that lengths of 163 work best for me, but I can wear kimono as short as 160 cm. I keep a record of the dimensions of the kimono I have found fit me best and compare those measurements to the descriptions of the kimono I am considering buying.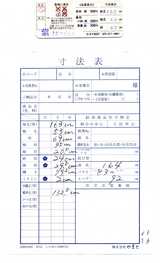 I have scanned two forms of measurements seen here. The top is the measurement for a purple (紫) prêt à porter yukata I bought at the Mitsukoshi department in Shinjuku many years ago. This yukata fits me just about perfectly and the sleeves are not too short. It is 162 cm long, the sleeve-width is 49 cm (which seems to be the ideal width for me), and the yuki is 67, which is nice because it means the body of the yukata is not too wide.
The second measurement form is from a kimono shop near my house that just figured my measurements by formula. All you put in is the height, bust, and hip and all the other measurements are automatic, which means in my case the sleeves will be too short. If you look, this form has the sleeve width as 35 cm (almost unbelievably short), whereas I know it should be 49 cm. Below is the translation of the measurements on this form. To the right are the dimensions in
red
that I think work better for
fudangi
普段着 everyday-wear.
Mitake身丈 (length from below collar to hem): 163 cm
(163 cm)
Sode Take 袖丈 (sleeve height): 53 cm
(49 cm)
Yuki 裄 (width from back seam to end of sleeve): 69 cm
(67 cm)
Sode haba袖幅 or 袖巾 (length/width of sleeve): 35 cm
Sode tsuke 袖付 (length of sleeve attached to kimono): 20.5 cm
(20.5 cm)
Mae haba 前幅 or 前巾 (width of outer front panel): 24 cm
(24 cm)
Ushiro haba 後幅 or 後巾 (width of single back panel): 29.5 cm
(30 cm)
Okumi sagari 衽下り
Tate-zuma 立褄 or Eri-shita 衿下 or Tsuma-shita 褄下: 79.5 cm
Kuri koshi くり越し or くりこし: 2 cm
(2 cm)
Juban take 襦袢丈 (length for a matching nagajuban): 132.5 cm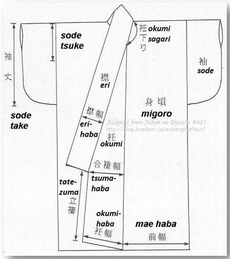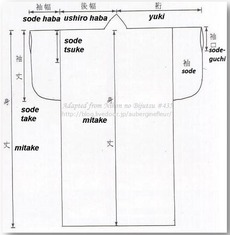 * See also:
*
Kimono Size and Construction Chart
by Mojuko from
Memoirs of Mojuko
* 京都 Wabitas:
きもの部分名称
(Kimono Parts and Their Names)
* wahuku.com Kimono Parts and Their Names
きもの各部の名称(解説付き)
* Sensho Kyoto:
寸法の割り出し方
(Kimono Sizing and Measurements Chart)
* Wikipedia:
4 和服の構造
(The Construction of Kimono)
* KimonoClub:
着物の各部名称と寸法:カテゴリー
(Kimono Parts and Measurements)

Iwasa Kimono Sewing Studio:
着物の名称 DIAGRAM OF THE KIMONO PARTS
*Click Blogmura logo for other blogs (in Japanese) on Kimono--and increase my ranking there!