2006年12月20日
リボンの騎士 ザ・ミュージカル (Knight of the Ribbon Musical)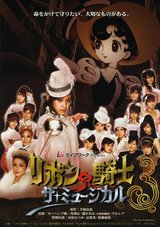 Just now, I finally got to sit down and watch part of Hello! Project's 2006 musical,
Ribbon no Kishi
. The series is nothing new, as it was actually a manga series created back in the 1960's by the Father of Manga, Tezuka Osamu. Yet, the musical is done in Takarazuka style, meaning the whole cast is solely women. (It's nothing new, really. Lots of theatres already only use female actresses to play male roles, i.e. Peter Pan.)
When I'd read about the storyline and such before, I was a bit intrigued, especially by who was assigned what character. (I lol'd hard at Miki getting Heckett, the witch!) Also, any hardcore H!P fan knows that Takahashi Ai is a BIG Takarazuka fan herself, so it was a match made in heaven to give her the main role as Sapphire. Anyway, the musical storyline is a tad bit different than the actual anime/manga storyline, but they had to change it around a bit to fit the musical style and such. I don't want to spoil the story for anyone, so I'll avoid making any statements about the storyline . . .
What I'd really like to talk about is the girls' acting skills! It's really hard for me to just pick
one
girl that I really liked, as I was impressed with everyone. There are a few members who I never really thought of as having nice voices at all (*cough*SayumiandRika*cough*), but the training they went through
really
paid off! Even if it wasn't the best sounding, it sounded more tolerable than usual. ゜〜 ゜
If I had to choose only one person, though, it would be Takahashi. I think that the fact that she was really into Takarazuka really helped, as she seemed very passionate about the whole ordeal. When she was younger, she'd always dreamed of landing this kind of role, so it was nice to see her excel in something she loves, besides singing. (Of course, I'm sure you Taka-haters would like talk about how she's the front girl with too much attention anyway.) Really, though, she's a splendid actress and I want to see more of her acting! And, more Taka cross-dressing! She makes a hawt man! xD
Isn't it obligatory for me to say I love Heckett? Oh, yes indeed!
<3
Miki is perfect for the witch role. Mind you, I'm not saying she's overall evil, but she can act it out fairly well! I mean, she had that cackle DOWN. Also, her singing was fantastic. I'd put it on the same level as Takahashi's. Her costume reminded me a bit of something of a black wedding gown, which was neat. Not to mention, whatever contacts she had in were gorgeous! [insert continuous Miki babbling]
Everyone else did a good job as well. I would reccomend every H!P fan to watch this, even if you find musicals boring. The storyline is interesting, and it's cute and funny how they throw in jokes about idols and Morning Musume. Because it's an all female-cast, don't be surprised by any of the cross-dressing or seemingly girl on girl action. A lot of the comments in there are very feminist, too, but I think that's simply because Sapphire's character is envious of pretty girls and wishes to live normally like them.
If you would like to read more about Ribbon no Kishi's characters and storyline, please visit this
wikipedia link
. More over, if you have a torrent downloader and are interested in viewing a subtitled version of the musical, please check the
Hello!Online tracker
.* Of course, if you enjoy the musical and have about US $60 to spend, look into purchasing the DVD set at
Yes Asia
or
Amazon.co.jp
! I know I'm buying it! ´ー`
* - The subtitled version on H!O has Rika as Prince Franz, basically because she is the lead role. If you would like to view the other versions with Nacchi, Aya, and Tsuji, you must download
this torrent
. Please take note of the file size and that these are unsubtitled. HPS has already stated that they will not sub any other versions beside's Rika's version.