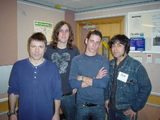 BATTLES,WIVES,STARLITE DESPERATIONのリリースをしたりしている
COLD SWEAT
のオーナーでBLUEBIRDのヴォーカルでもあるSAM JAMES VELDEのTOP PICKS!
sam james velde(cold sweat/bluebird)
Caspar Brotzman- Koksoffen
Order- Warhead
Usef Lateef- Gentle Giant
Terry Reid- River
Beowulf-Beowulf
At The Gates- Slaughter Of The Soul
The Hospitals- The Hospitals
Rein Sanction- Broc's Cabin
Swans- The Great Annihilator
Cold Sweat-
New Wives single out this summer. New Wives CD/LP out in 2006. Coliseum single out in Fall. Sound like Motorhead vs. Poison Idea. One sided/Etched Devendra Banhart Christmas single out in November 2005. Lotsa new records/events on the horizon for 2006! Stay tuned.