Hello,I'm Matt. Halloween has only recently become popularin Japan, but it has been a major holiday in the West for many years now. I grew up in America, and I'd like to talkabout my childhood Halloween experiences.
Of course Halloween was most exciting whenI was in kindergarten and elementary school. I remember being Luke Skywalker, the Pink Panther, and a carrot fordifferent years. I would join a group offriends in the early evening, and we would go door-to-door in our neighbourhoodtrick-or-treating. By the end of theevening, we would all have a large bag of candy and we would all have a stomachache the next day because we ate too much of the candy. I think many Americans go trick-or-treatingwith their family, but I don't have any brothers or sisters.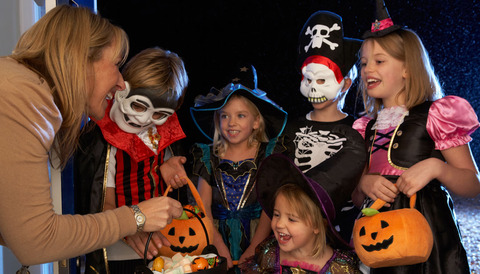 Once American kids reach junior highschool, they usually stop trick-or-treating unless they are looking after ayounger brother or sister. Still, myfriends and I still liked Halloween, so we started making 'scary' movies onHalloween. Our costumes were for themovie and we ran around the neighbourhood filming.
Even adults enjoy Halloween inAmerica. Offices may have costumeparties with all of the office workers in costume. Others may go to a friend's party, or even aconcert, where everyone is in costume. When I was older, I went to several Halloween concerts where both theband and the audience was in costume!
We try to bring you a fun Halloweenexperience at Earnest each year. It's alittle different than what we do in America, but as a teacher, I'm excited tosee the students' costumes, choose my own costume, and play Halloween gameseach year! Halloween is an excitingholiday for all ages!