Hello. My name is Luke Summerhayes.
I`m a fairly new teacher here at Earnest. I started at the end of July this year.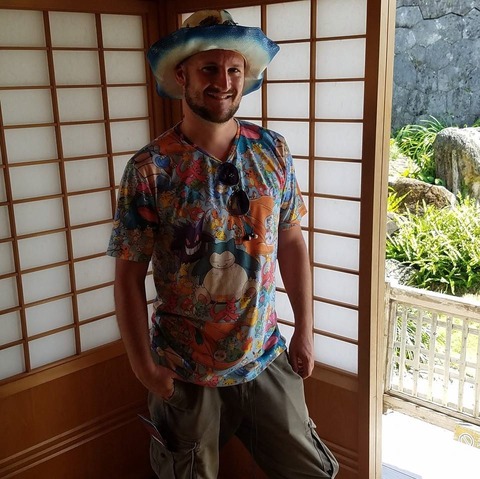 When I meet new students, one way I like to get them to practice some English is to ask me five questions: what, when, where, who and why. I often get asked "what is your favourite animal?" (bear), "when is your birthday?" (September 11th), "where are you from?" (England) and"who is your favourite singer?" (David Bowie, but the students never know who that is so I use my favourite living singer, Taylor Swift).
For the why question, students will often ask me "why did you come to Japan?" This one is a little trickier and I thought I would talk about it here, and how working at Earnest has helped me understand that I want to stay in Japan.


My story starts a long time ago, just before I was ten years old. Like everyone my age in England, I became obsessed with Pokemon when it first came to the UK. I watched the anime, collected the cards and begged my family to buy me the Game Boy game for Christmas.
Most of my friends stopped being interested in things like Pokemon as they grew older, but I never did. I wanted to live in that magical world instead of the boring real world. I dreamed of magical creatures,adventures on mountains and beautiful forests right on the edge of town.
As I grew older, there were many things I really loved:Nintendo, Godzilla, Samurai movies. I read about these things and started to read more and more about Japan because it made so many things I loved. I learned about Japanese history and culture. I became fascinated by the samurai and enamoured with the architecture. I greatly respected Japan for Article 9 of the constitution and loved it for the sense of humour.


When I finally came to Japan, I thought I would love spending time in Tokyo and Osaka, playing video games and meeting anime fans. In reality, my favourite parts of Japan turned out not to be the big cities.
I like the beautiful mountains and shrines. I like going for long walks along side pretty rivers and seeing fascinating birds and insects and fish. I have discovered I am much more adventurous than I believed when I wasin the UK.
Lots of my students love the same cartoons and charactersand games that I do. We have fun and talk about them, but I hope they can realise what I have realised: I don`t need to imagine any more. Here in Japan,I really am on my adventure!