Hello! This is Rob, your Canadian envoy to English education at Earnest.
Now that we have entered November,we have seen another Halloween come and go. As our students and parents are well aware, Halloween Week at Earnest is quite the spectacle. Seeing the excitement and enthusiasm of our students as they run around our spooky halls in colourful costumes, filling the school with jubilant screams of fear and delight, reminds me of what a great opportunity this time is for them to get a taste of a popular piece of western culture. Speaking with many of my older,long-term students, I am always surprised to hear that their only experience with Halloween has been through the events hosted here at Earnest. It makes me appreciate the eagerness of our students for this once-a-year week, and I understand with gratitude the thanks of parents for providing their children with such an exciting opportunity.
This year again, we were able to see outstanding creativity and cleverness in the costumes worn in our school. A very big thank you to parents who helped their kids in constructing their unique outfits, and a hearty congratulations to the many students who won any of our various costume contest awards. This costumed collaboration was especially fun for me as well, as I enjoyed how zealously students interacted with my character, heroically chasing me through the halls or tepidly trying to sidestep my sketchy specter. Perhaps most amusing was that most students, even those I teach, didn't know it was me under the outfit, allowing me a fun dramatic reveal. Events like these give us a great chance to play and have fun with our students outside of our regular educational curriculum, so I hope students will look back on these times with as much fondness as we do.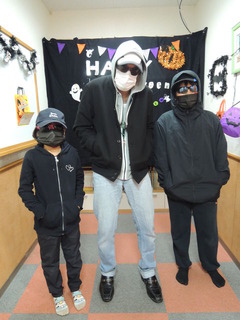 I hope you all look forward to this same time next year, and I look forward to being surprised by your creative costumes!