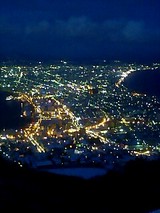 Best wishes for a happy new year!! How did you enjoy new-year holidays? I was in Aichi and relaxed with my family. I love to be there, because you know, I can eat whatever I want. Thanks.
Recently I went Mount Hakodate, and had a look at a splendid view. It was my first time to look it. I went once, but the day was so cloudy that I could see only some blurry lights.
Well... I realize that almost five years will elapse since I'd moved to this small city. Umm......
I wish us both luck, also this year

カテゴリ: