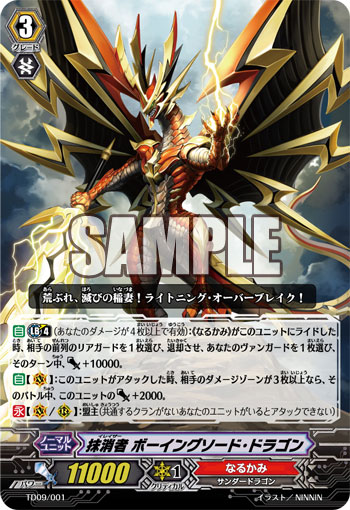 Eraser vowing sword dragon
G3 / POWER: 11000 / GUARD: 0
[Auto]<LB4>: When you ride a Narukami over
this unit, you may select one of your opponent
RG in the front row and retire it, Select 1 of your
VG, it gets POWER+10000 during this turn
[Auto](V): When this unit attacks and your opponent
have 3 or more cards in the damage zone, this unit
gets POWER+2000 during this battle
[Continuous](V/R): Lord
[Thunder break dragon] a warrior from one of the two
great army in the Empire "Narukami". He had the
honour to be the first to receive the title "Eraser", the
title shows the obligation for the warriors to keep
improving themselves daily and also a proof of being
acknowledged by the empror that rules the empire. The
meaning behind the name is [Vow]. The thunder blade
that use to go through the battlefield for his own victory
now swings for his vow and to open a new pathway for
those following after his path. Everything is for the complete
victory of the empire
WS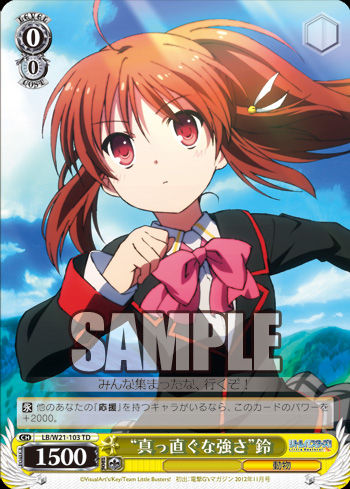 "Strength of straightforwardness" Rin
Level: 0 / Cost: 0 / POWER: 1500
<Animal>
[Continuous] If you have another Chara with [Support],
this card gets POWER+2000
Little Busters! Animation TD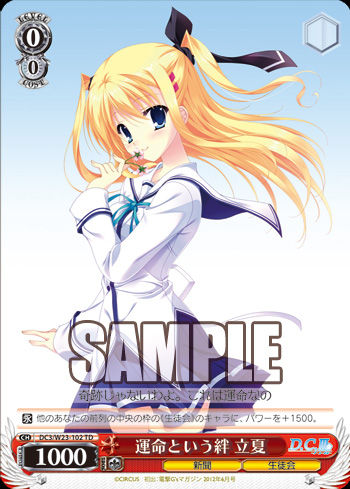 A bond call fate Rikka
Level: 0 / Cost: 0 / POWER: 1000
<Newspaper><student committee>

[Continuous] The other
<student committee> in the

middle of front row gets POWER+1500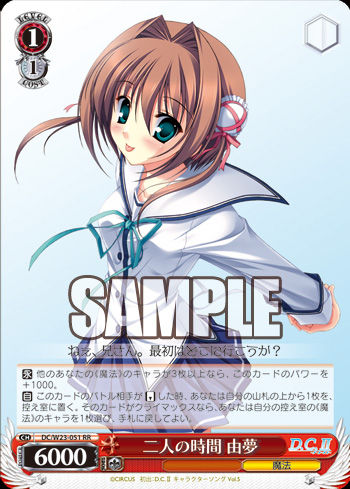 Time for two Yume
Level: 1 / Cost: 1 / POWER: 6000
<Magic>

[Continuous] If you have 3 or more other Charas
with <Magic>, this card gets POWER+1000
[Auto] When this card reverse an opponent's Chara
in battle, send 1 card from the top of your deck into
waitig room, if that card is a climax card, you may
select an Chara with <Magic> in your waiting room
and return it back to your hand
D.C 10th anni booster
VS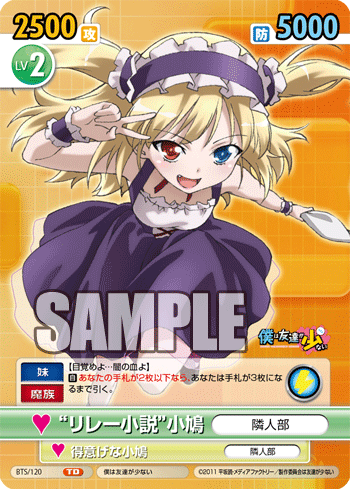 Haganai TD/ Supply set
Chaos
Aqua Pazza EP
Eiyuu*Senki EP
MonColle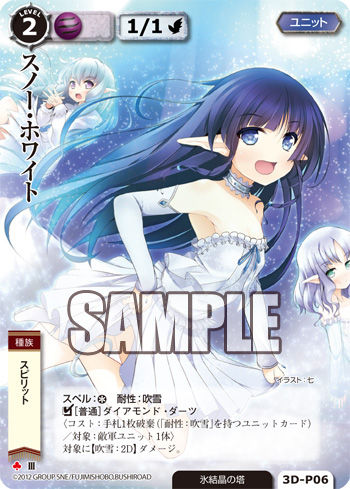 Z/X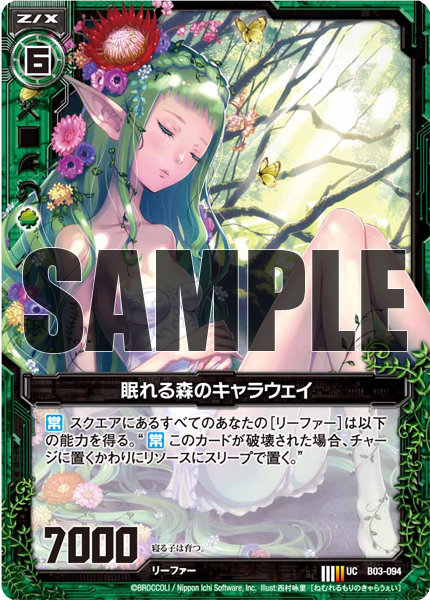 Karavee of the sleeping forest
Cost: 6 / POWER: 7000
[Continuous] All your [Leafa] in the square
gets the following effect. "[Continuous] When
this card id destroyed, place it into resource in
Sleep instead of sending it to Charge"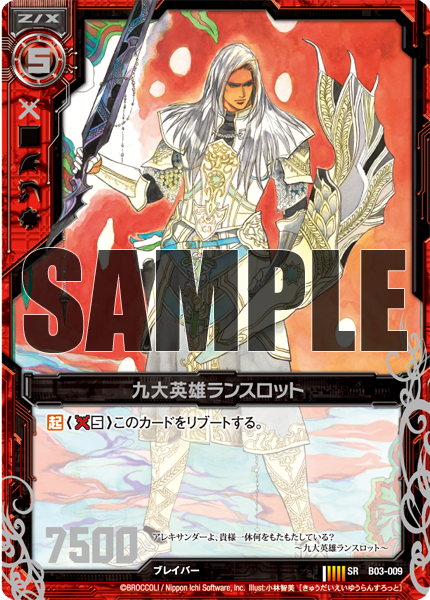 Nine great heroes Lancelot
Cost: 5 / POWER: 7500
[Activate]<5Red> Reboot this card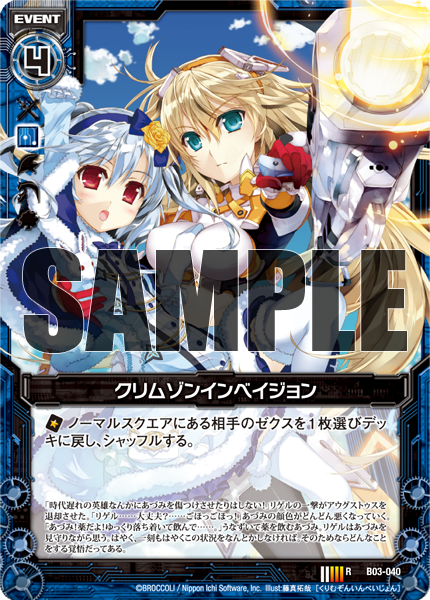 Crimsonvation
Cost: 4 / Event
Select an opponent's Z/X in the normal
square, return it back to deck, shuffle the
deck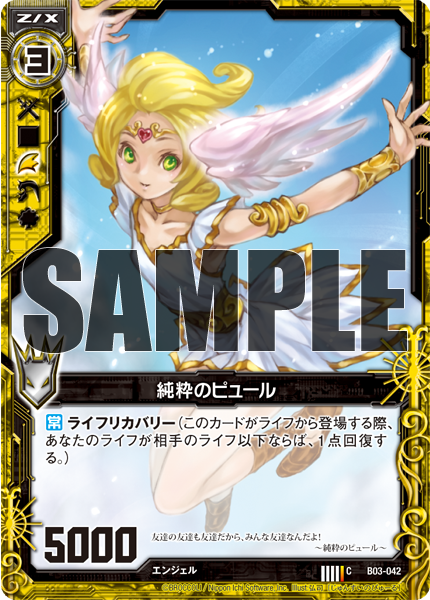 Pure Pur
Cost: 3 / POWER: 5000
[Continuous] Life recover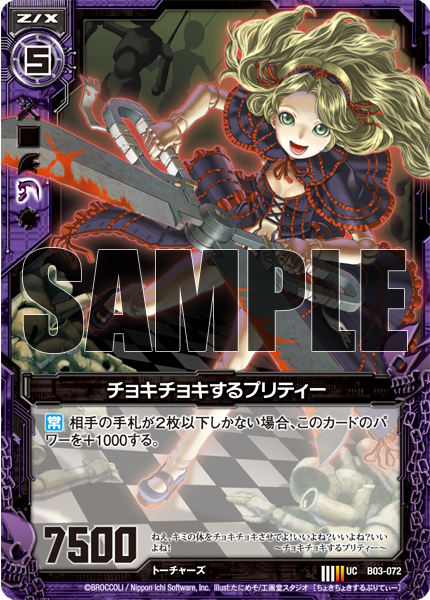 Snip snap pretty
Cost: 5 / POWER: 7500
[Continuous] If your opponent's hand is not
2 or beow, this card gets POWER+1000
FOW
Guardian of the flower garden
<Continuous> When you uses a summoning
spell, this card gets [+300/+300] till the end
of turn
<Condition>Destroy this card: Target resonator
will not recieve battle damage till the end of turn
ATK: 400 / DEF: 400
KOPW