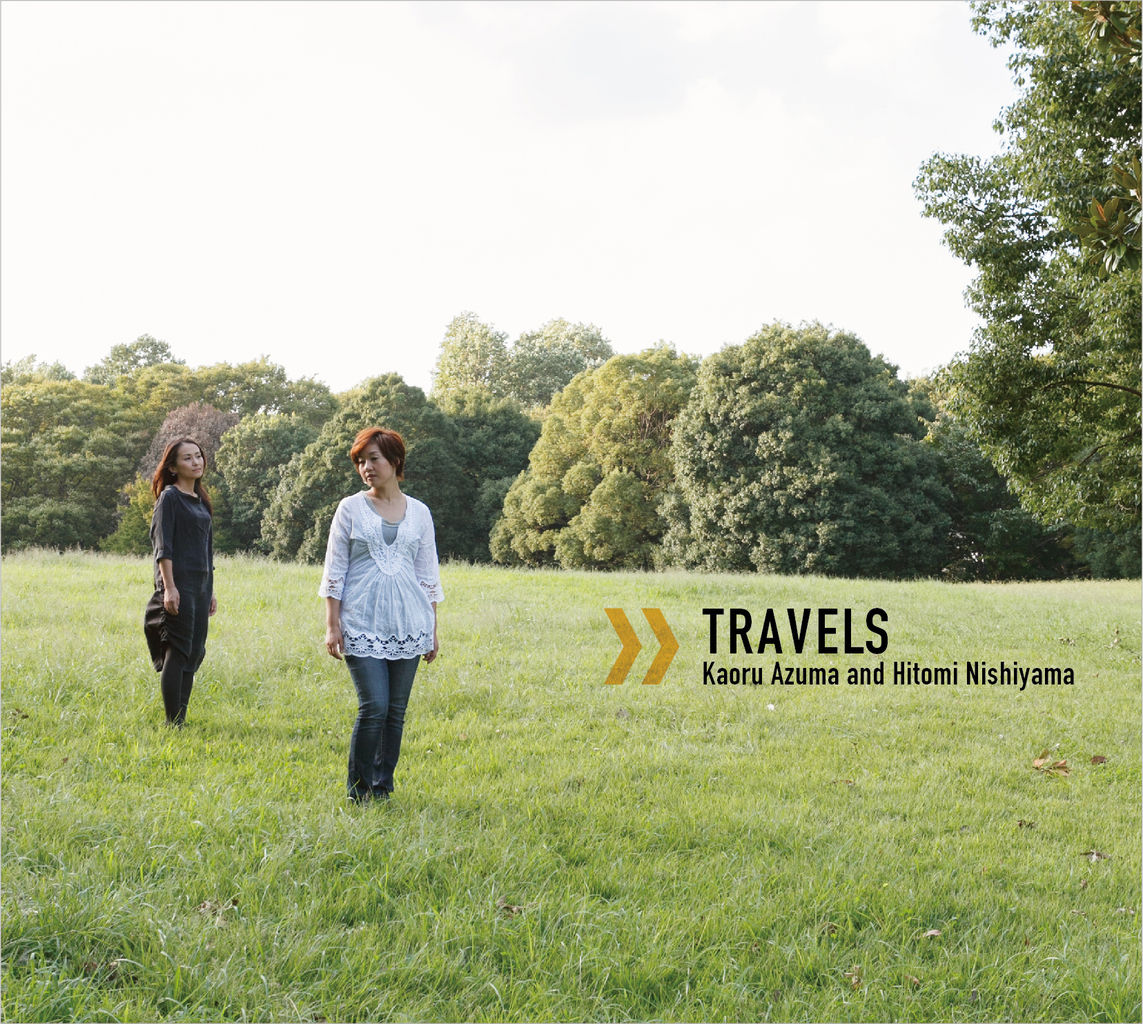 New Release!!
Travels / Kaoru Azuma, Hitomi Nishiyama
Release Date: Dec 4, 2013
Catalogue Number: APLS1305
Label: Apollo Sounds
Regular price (tax incl.): 2,750yen
HMV
,
Tower Records
,
Amazon
,
iTunes Store
, etc.
Members:
Kaoru Azuma vocal  
[Website]
Hitomi Nishiyama piano , compose  
[Website]
Motohiko Ichino guitar #1,2,5,8,9  
[Website]
Ryosuke Hashizume tenor, soprano saxophone #2,6,7,8  
[Website]
Toru Nishijima bass #1,2,3,5,7,8,9  
[Website]
Songs
01. On Travel 6:28
  (music: Hitomi Nishiyama / lyric: Jesse Forest, Kaoru Azuma)
02. Gardens Under The Rain  6:15
  (music: Hitomi Nishiyama / lyric: Kaoru Azuma)
03. Changing  5:57  (music: Hitomi Nishiyama / lyric: Kaoru Azuma)
04. Just By Thinking Of You  5:08
  (music: Hitomi Nishiyama / lyric: Kaoru Azuma)
05. Lost In Time  8:07  (music: Hitomi Nishiyama)
06. Blue and Blue  4:58  (music & lyric: Hitomi Nishiyama)
07. Circular Blue  3:26  (music: Hitomi Nishiyama / lyric: Jesse Forest)
08. Remains To Be Seen  5:17  (music: Hitomi Nishiyama)
09. Baroque  5:43  (music: Hitomi Nishiyama)
10. Moon River  5:56  (music: Henry Mancini / lyric: Johnny Marcer)
Produce: Hitomi Nishiyama
Recording Date: 2013/2/18,19
Recording Studio: Studio Dede, Tokyo
Recording Engineer: Yuki Takahashi
Director: Jun Abe (Apollo Sounds)
Art Director: Tadashi Kitagawa
Product Description
Kaoru Azuma is renowned as a modern jazz vocalist in Japan, with a style often compared to Gretchen Parlato and Luciana Souza. When living in New York and enrolled at the City College of New York she studied with great musicians like Sheila Jordan. She was selected as one of the semifinalists for the 10th International Jazz Voices Competition 2011 in Lithuania.
Kaoru's 2nd CD, Footprints in New York features vocal renditions of the songs of modern jazz instrumentalists and was released in the U.S. and Japan in 2008. Her CD was highly praised for her innovation and style in both New York and Japan. Kaoru Azuma's latest recording is a songbook of compositions by nationally-famous and high-selling pianist and composer Hitomi Nishiyama.
Hitomi Nishiyama's originals are influenced by pop and characterized by memorable melodies, but are also technically difficult, especially for vocalists. Kaoru penned her own lyrics and, with experience interpreting the work of instrumentalists, used that approach for the material. Kaoru's natural, open, and warm voice makes Hitomi's compositions accessible and fills the music with gentle and positive energy.
Featured musicians on the recording are guitarist Motohiko Ichino and tenor saxophonist Ryosuke Hashizume, who are well known in the contemporary jazz scene in Japan, as well Bassist Toru Nishijima who is in high demand from jazz and pop artists.
"Kaoru's technique has restrained passion, yearning and sweetness, and
the works are reminiscent of Keith Jarrett or Kenny Werner."
-Scott Reeves-
A trombonist, alto flugelhornist, composer, arranger, author, and college jazz educator (The City College of New York, CUNY, and The Juilliard School of Music)

"This music reminds me Maria Schneider, Luciana Souza's works and fits Kaoru's voice very well. "Baroque" brought me an excitement of JAZZ through taking a risk for the improvisation which has half steps and modulation changes. Even though Hitomi brings the irregular meter composition "On Travel", it's very natural and comfortable feel."
-Nabuko Kiryu-
A jazz singer

"Beautiful! Great arrangements and beautiful singing!
Very high quality, both in singing and arrangements and playing."
-Cathy Segal-Garcia-
A jazz singer and educator

Musician's Profile
■Kaoru Azuma - vocal -
http://www.kaorumusic.com/
Kaoru Azuma was born in Osaka, Japan 1977. She started her professional career during her junior college year in Osaka, Kyoto, and other parts of Japan.
In 2000, she got the one of the prizes of the Kobe Jazz Vocal Queen Contest.
In 2003, she moved to New York to perform and enrolled in the jazz studies program at the City College of New York. Kaoru's knowledge and education in music comes from great singers and musicians such as Mark Murphy, Sheila Jordan, Suzanne Pittson, Kate McGarry, Mike Holober and Scott Reeves in New York.
After receiving her BFA degree and the Pro Music Award from City College, Kaoru began performing in clubs such as the 55 bar, the Cornelia Street Cafe and others while collaborating with New York-based musician s.
In 2006, Kaoru's 1st CD, The Water Is Wide was released in the U.S. and has had airplay in Belgium and Switzerland.
In 2008, Kaoru's 2nd CD, Footprints in New York (River East Music 1002, 1003), was released in the U.S. and Japan. Her selections are primarily compositions associated with the great jazz masters. Her CD was reviewed and recommended as a Hot New CD for Summer 2009 by Jazz Improv Magazine.
In 2010, Kaoru was selected as a guest vocalist with Japanese All Stars from Kobe City for the French Quarter Jazz Festival in New Orleans, where she performed a series of acclaimed shows.
In 2011, Kaoru was selected as one of the semifinalists for the 10th International Jazz Voices Competition in Klaipeda, Lithuania.
The unit Star In Green with guitarist, Jesse Forest released its 1st album Star In Green (River East Music 1003) in October 2011.
Throughout she has been known as a remarkable and creative jazz vocalist, composing original music, writing lyrics on re-imagined instrumental tunes, doing free improvisation, and contributing unique arrangements to the jazz canon.
------ Recent performances in the U.S. ------
●Old Meeting House in Vermont / Nov. 10th 2010
●ZINC Bar in New York / Nov. 8th 2011
●Cornelia Street Cafe in New York / Apr. 15th 2010
●French Quarter Festival in New Orleans / Apr. 10, 11th 2010
●Snug Harbor in New Orleans / Apr. 8th 2010
●Yippie Museum in New York / Jan. 6th 2010
●55 Bar in New York / June 1st 2009
●Cornelia Street Cafe in New York / Feb. 24th 2009
■Hitomi Nishiyama - pianist, composer -
http:// hitominishiyama.net
Hitomi Nishiyama was born in 1979. Hitomi won a grand prix at the Yokohama Jazz Promenade Competition in 2005. In 2006, Hitomi recorded her debut album Cubium with two of Sweden's most talented musicians, Hans Backenroth (Bs) and Anders Kjellberg (Dr), in Stockholm. Cubium gained accolades even before its national release, and further established Hitomi's eminence in Japan. In 2007, Hitomi was invited to perform at the Stockholm Jazz Festival, making Hitomi its first Japanese guest musician. Until now Hitomi has released 5 albums, and her 5th album Parallax reached the first top of the HMV's Japanese jazz chart, and was nominated for the Swing Journal jazz prize.
In 2010, Hitomi won a 3rd prize in jazz category in the International Songwriting Competition 2009 which is regarded as one of the world's premier international songwriting competitions in the USA.
In 2011, She released 6th album "Music In You" which selected the best 100 CDs of 2011 by CD Journal magazine.
She thinks a great deal of her own background with female sense of Japanese, Japanese lyricism. Her music is the fruit of both Japanese essences and European music. It is recognized for its inimitable, exquisitely beautiful melodies. On the other hand, Hitomi's performances with her trio radiate with passionate energy, and are known to cut across known genres. She was consequently invited to perform at numerous jazz festivals in Japan, including Yokohama Jazz Promenade, Takatsuki Jazz Street and Jozenji Jazz Street. Her music is sought after by fans across Japan, and Hitomi is proving herself as one of Japan's preeminent female pianists.
Discography
2013 Sympathy / Hitomi Nishiyama trio MT004 Meantone, diskunion
2012 El Cant Dels Ocells / Hitomi Nishiyama(p), Daiki Yasukagawa(b) DMCD20, D-musica
2012 Astrolabe / Hitomi Nishiyama MT003 Meantone, diskunion
2011 Music In You / Hitomi Nishiyama trio MT002 Meantone, diskunion
reached 1st top of HMV's Japanese jazz chart and Tower Records jazz sales chart
and awarded CD Journal's Best 100
2008 Parallax / Hitomi Nishiyama PBCM61032 Spice of Life, EMI Music Japan
nominated Swing Journal Award, reached 1st top of HMV's Japanese jazz chart
2008 In Stockholm~Live at Glenn Miller Cafe / Hitomi Nishiyama SOLJP0008 Spice of Life
2007 Many Seasons / Hitomi Nishiyama trio SOLJP0005 Spice of Life, Amuse Inc.
nominated PLAYBOY JAZZ AWARD , Swing Jounal Award
2006 Cubium / Hitomi Nishiyama trio SOLJP0003 Spice of Life, Amuse Inc.
2004 I'm Missing You / Hitomi Nishiyama trio VNTM04001 Steps record, self-produced
■Motohiko Ichino - guitar -
http://motohikoichino.com
Guitarist/Composer MOTOHIKO ICHINO graduated from Berklee College of Music in 1999, where he studied with Mick Goodrick, Bret Willmott, Tony Gaboury and Jon Damian. After he went back to Japan in 2001, he settled in Tokyo and started an active career as a performer, composer and teacher. In 2003, he won the first prize in the annual Gibson Japan Jazz Guitar Contest.
He released the CD Sketches (Ammonite Musique/ available at
http://cdbaby.com/
) in 2007,which contains 10 original compositions. In 2008 he released his second CD Time Flows(like water)(BounDEE). Besides playing his music as a leader ,he is busy as a sideman for many bands. He is playing on saxophonist Ryosuke Hashizume's CD Wordless(Polystar) As We Breathe(BounDEE), saxophonist Taiichi Kamimura's A Girl From New Mexico(EWE) Out of My Throat(EWE / with Taiichi,Ben Monder,Drew Gress and Take Toriyama).
■Toru Nishijima - bass -
http://www.toru-cb.com/wordpress/
Toru was born in Tokyo, 1973. He started playing violin at the age of 5 and playing an electric bass in high school. After the graduation from university, he switched to play a double bass. He has joined the group of Jazztronik and Tatsuo Sunaga since 1999. He has started playing with Ryota Komatsu, Haro Hakase, Momoko Aida and others since 2000. In 2004, he has joined the group "Nervio" by Kenichiro Niizawa. His album passage was released with co-leader, Masaki Hayashi. He has performed with many well-known artists in Japan and toured in Europe.
■Ryosuke Hashizume - Tenor, Soprano Saxophones-
http://www.ryohashizume.com
Born in 1970. Started playing alto saxophone at age 15, has been playing in the high school band.
At the age 19, he has received the scholarship from Berklee College Of Music in Boston, USA.
1990, he moved to Boston to study music. At age 23, he switched his principal instrument to tenor saxophone.
After graduated from jazz composition major at Berklee, he released his first self composed/arranged CD AND THEN YOU HEARD TALES (HAO RECORD 428). Next year, he released his 2nd CD IN A STRANGER'S HAND(HAO RECORD 429)" .
After he moved to Tokyo Japan in 1997, he has formed new group and playing at jazz clubs in various area.
In 2007, He released self-composed and self-produced CD WORDLESS (P.J.L MTCJ-3031).
In 2008, He also released his group's 2nd CD AS WE BREATHE (B.J.L. DDCJ-7004)
His latest CD is Acoustic Fluid (tactilesound records TS-001)