Must Seeの8つのギャラリーを紹介しましたので、今回は比較的大手で印象に残った展示を。
Marlborough Contemporary
ワディントン、アンソニー・ドフェイ(2002年閉鎖)らとともに80年代初期の英国の美術界を牛耳っていたごく少数のディーラーのひとつMarlborough Fine Artsの現代美術部門がここです。(我が国で例えるなら日動さんとncaさんのような感じでしょうか。)
当日はポルトガル人作家のJoão Onofreの個展を行っていました。ジョン・ケージへのオマージュともいえる映像作品が興味深く、ディレクターに映像作品が好きなことを告げると、シガリット・ランダウの名前を挙げてきました。エルメスの展示が素晴らしかったのでその旨を告げると、PCで作品をたくさん見せてくれました。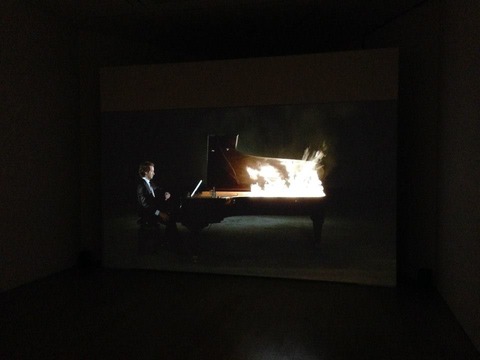 David Zwirner | London
スゥエーデン人作家のJockum Nordströmの個展でした。あまりに素晴らしかったので作品集を二冊頂きました(本当は作品が頂きたかったのだけれど・・・・)。ちなみに奥さんのMamma AnderssonもZwirner所属のぺインターです。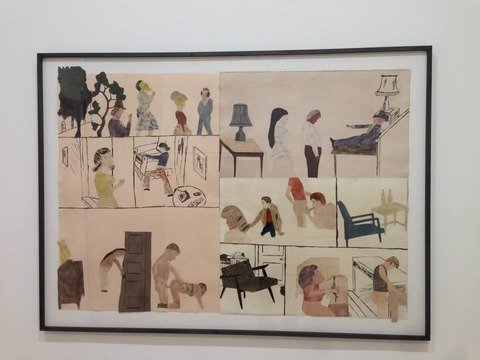 Hales Gallery
Hales Gallery is delighted to announce Go Stand Next to the Mountain an exhibition of seven artists whose works examine a personal 'lived experience' or Phenomenology: the study and interpretation of structures, events and objects in one's consciousness and life. The title of the exhibition, Go Stand Next to the Mountain is taken from artist Derrick Adam's piece of the same title. Approaching 'mountain' as a visual metaphor for a greater society, we are invited to engage with ideas of social consciousness, placement and perception.

For these seven artists the often reflective process of observation is carried out through the use of a mediator, filter or framework - whether that be an examination of the artist's life, their medium, alter-ego or even constructed fictive environments-and often underlines or exposes the discrepancies between their individual reality and the one maintained within society. How do we choose to portray and live out our personal identity within a society that is composed of conventions often limiting the human existence to a set of preconceived structures and activities? Is one's identity and experience inseparable from a larger collective group?
One focus of the exhibition entails looking at the portrayal of the 'self' within a society. Through the use of generated realities and 'alter egos', some of the exhibiting artists examine the process of manipulating and distorting one's identity in order to either belong or rebel against the collective group. The 'alter-egos' who speak for the artist often reflect the inadequacies of our contemporary society and allow the viewer to project their own shared experiences onto the work.
For other artists, gender, race and sexuality are defining issues that arise within their examination of identity. These characteristics often lead to an individual or collective group experiencing denial, isolation or ostracization from society. The artists' medium of choice acts as a space where they explore or question these issues thus, the artwork is being used as a vessel to encapsulate an experience.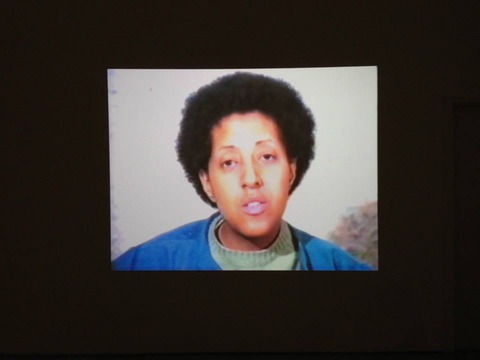 Zabludowicz Collection | London
PojuとAnitaのZabludowicz夫妻のプライベート・コレクションを見せるスペースです。1870年ごろに建てられた教会を改築したそのスペースは閑静な住宅街に突然といった感じで現れる威容を誇ります。プライベート・コレクションということで期待しないで行ったのですが、美術館顔負けのキュレーションと展示。コレクターといってもレベルが違いました。










Zabludowicz Collection is pleased to announce the first UK solo exhibition by Lizzie Fitch/Ryan Trecartin, two artists whose collaborative practice is one of the most significant in contemporary art today. The exhibition is an ambitious and completely new reconfiguration of the installation Priority Innfield. Commissioned for The Encyclopedic Palace at the 55th Venice Biennale, and supported by the Collection, Priority Innfield was for many the highlight of the Biennale. The Zabludowicz Collection exhibition marks the start of twelve months of special activity celebrating 20 years of the Collection.

For the Zabludowicz Collection, Fitch and Trecartin have pushed their remarkable exploration of the impact of technology on communication, language and the construction of identity to new extremes. The whole gallery has been turned into a unified space through the application of an internal skin of paint and carpet. Visitors enter a sealed environment, suggestive of shifted states of experience and perception.

Based upon the artist's own finely-honed scripts and realised in meticulously created visual worlds, the video works of Ryan Trecartin are also fluid and open – a composite of contributions from a whole cast of collaborators. Fitch and Trecartin work together to create the sculptural installations in which the movies are presented, and the forms of sculpture that exist inside the movies themselves such as the sets and wardrobe. The sculptural installations invoke the mise-en-scène of everyday life, allowing the work to intertwine with memory and lived experience. Viewers are invited to enter this intensely disorientating yet disturbingly familiar space, with Fitch and Trecartin seeing the audience's physical engagement as a crucial extension of the life of the work.

Four 'movies' – a term deliberately used by Trecartin – form the core elements of the project; Junior War, CENTER JENNY, Item Falls and Comma Boat (all 2013). These in turn occupy four sculptural theatres; Villa, Fence, Way, Pole. A fifth theatre, titled Tilt, functions as an observational theatre, activated by its proximity to the other theatres comprising the installation. A crucial audio element played in each of the theatres has been re-mastered by Trecartin for its presentation in London.

The sculptural theatres are reminiscent of vacant suburban environments such as an empty bedroom or stadium bleachers, combined with details such as a chain-link fence or a pile of sleeping bags. Each space functions as a threshold into Fitch and Trecartin's universe.

The tension between history and evolution is a theme that permeates the four movies. Junior War comprises edited footage Trecartin shot of his peers during high school in Ohio in the late 90s. It shows the familiar dark energy of adolescent excess, and also a bygone era before social media ushered in a culture of continually documenting and sharing one's life. The movie sets the tone for Trecartin's evolving role as both participant and observer of our society and culture.

CENTER JENNY is set in a post-human future where a new type of people are studying their ancestors through a gaming system. We find ourselves inside a dystopian University, with an army of pupils all named 'Jenny' who must negotiate a terrain of competition and cruelty in order to ascend to the next caste-like 'level'.

Item Falls, filmed at Fitch and Trecartin's home in the Los Angeles neighbourhood of Los Feliz, shows multiple performers seemingly trapped in a perpetual audition while being assailed by animation effects. The actors' ability to evolve across different stages determines their identity and social standing. Throughout the filming process Trecartin remained in character as an anthropomorphized version of the very process of directing – the capturing, witnessing and organization of information into a mediated state. Footage of the artist as a hostile and unstable film director makes up a final movie, the three-channel work Comma Boat.
Rather than an ironic or simplistic parody of our mediated culture, Trecartin implicates himself fully inside of its workings. From this cacophony he manages to edit language, performances, virtual surfaces and three-dimensional forms into inventive and emotionally affecting spaces that reflect something of the chaos of existence.


Lisson Gallery | London
80年代の英国美術を代表する動向の一つに「ニュー・ブリティッシュ・スカルプチャー」と呼ばれる立体表現がありますが、この動向に属すると言われるリチャード・ディーコン(84年第一回ターナー賞候補)、トニー・クラッグ(85年候補)、ビル・ウッドロー(86年候補)、リチャード・ウェントワースらのほか、より自省的・精神的課題に取り組んだアニッシュ・カプーア(インド生まれ。91年受賞)やシラゼ・フーシアリー(イラン系)など、80年代新進のアーティストを定期的に展示して支援したのがここです。(今回訪れたギャラリーのうち、80年代に積極的に若手を支援したのは他にモーリーン・ペイリーやマッツがあります。)
同じ通りに二箇所スペースを持つリッソンは、同じくロンドンに二箇所スペースを持つヘラルド・ストリートが期待外れだったのとは対照的に、いずれのスペースも素晴らしい展覧会を行っていました。一箇所はArt & Language。ポリティカル・アートの文脈で語られることも多い彼らの作品を見られたことはこの上ない喜びでした。



(参考)
PORTRAIT OF V.I LENIN BY V. CHARANGOVITCH (1970) IN THE STYLE OF JACKSON POLLOCK III By Art & Language (1980):共産主義者ポロックを反共のシンボルに利用したことへの批判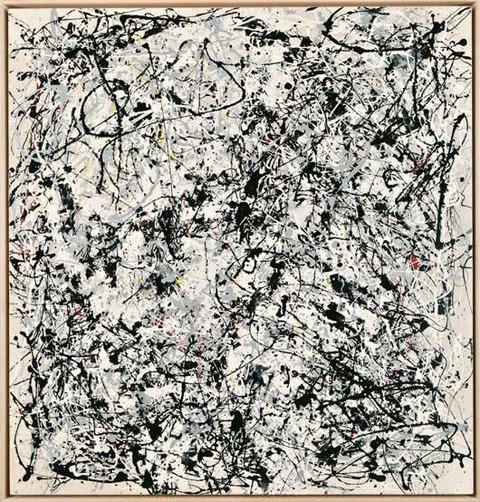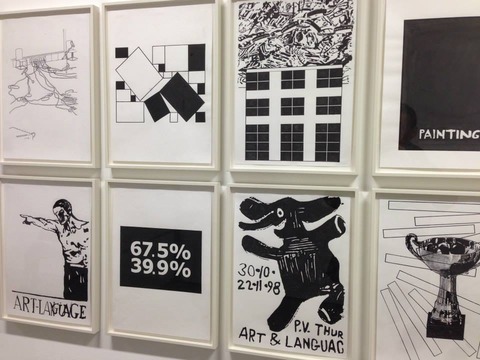 リッソンで展示されていた作品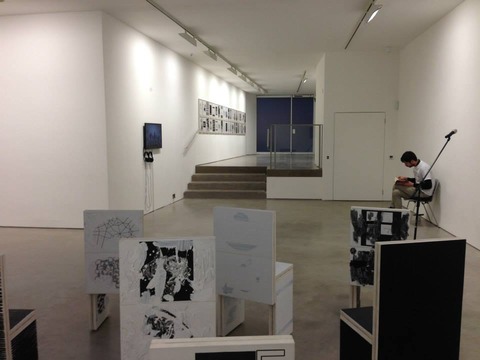 リッソンでの展示風景

This exhibition of new work – comprising five new paintings, 17 chairs each made from 10 paintings, a performance featuring this installation of chairs and a number of recent drawings also referencing other pieces created by Art & Language – marks over 40 years since this contingent art group first showed at Lisson Gallery. What began as an amorphous, more-or-less anonymous gathering of like-minded artists and thinkers, with loosely connected chapters as far afield as Coventry, London and New York, is now defined as a collaboration between Michael Baldwin and Mel Ramsden, with participation from performers such as The Jackson Pollock Bar and Red Krayola The continued presence and importance of Art & Language – as pioneering conceptual artists, combining text, performance, music and publishing – is testament to their enduring influence on, and indeed, anticipation of much current art practice, but is also the result of their constant questioning of art's limits and possibilities.

The titular gathering of chairs, Nobody Spoke, is a ghostly manifestation in the gallery (as well as the subject of a performance staged in the same space on the opening night by the The Jackson Pollock Bar). Every one of these non-functional seats has been constructed from 10 equal-sized canvases, with each individual panel exhaustively over-painted with motifs drawn from past Art & Language projects (including their famous Indexes of 1972-73), as well as many seemingly unrelated scenes (such as an upside down kangaroo, a portrait of George W. Bush, a black square, a loin of pork, some quantum mechanics and so on). Although the assembled chairs' conglomeration of imagery and empty states suggests an inability to communicate, they could be conversely seen to exist as coherent emblems or 'readers' of current contemporary art objecthood: namely as works that can be simultaneously and fluidly described as paintings, furniture, documentation, performance props and conceptual works of art.

A new group of large paintings, Sea Ghosts, continues these themes of hybridity, repositioning and self-reflexivity. Constructed from many layers of over-painted imagery, the act of continual obliteration produces complex compositions of borders and gestures, both painstakingly handmade and re-drawn in ink, creating parodies of painterly styles and short-circuiting easy visual readings. Demanding our attention further are a number of vitrines containing textual portraits, printed descriptions that are placed over actual portrait paintings of the faces alluded to in the obfuscatory sheets of text. Although invisible to the eye, the concealed portraits include such diverse figures as Michelle Obama, Hugo Chávez and Nouri al-Maliki.

Elsewhere, a selection of 40 drawings (from a total of 147) repeats or reveals many of the images contained within the chairs or paintings, albeit sometimes in degraded or mutated form, providing what Michael Baldwin calls: "footnotes, excursions, connections, disconnections, translations and betrayals." Not only do Art & Language challenge our commitment to looking at art by veiling their subjects or superimposing them atop one another, but they also disrupt the hierarchy between different modes of appreciation, refusing to favour either figuration or abstraction, nor the ocular ingestion of purely visual information over reading descriptive texts about the same art works.

もう一箇所では69年生まれのJonathan Monk。こちらは表現の形式が多様で戸惑いましたが、どれも実に興味深く、時間があればギャラリストとじっくり話がしてみたかった展示でした。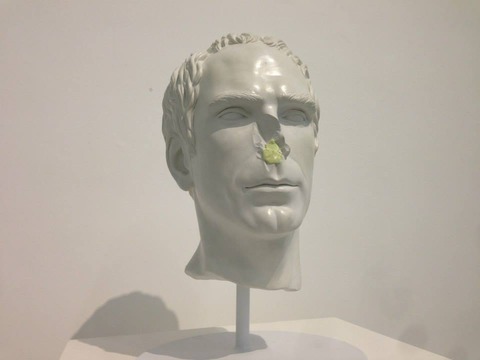 For his sixth solo exhibition at Lisson Gallery, Jonathan Monk revisits narratives drawn from his own biography and transforms historical works by artists that have also proved to be personal, formative influences. A new wall-hung assemblage of stitched-together souvenir tea towels, entitled My Life Within the Lives of Others II (2014), marks every year and indeed every day since his birth so far, with 46 anachronistic cloth calendars showing different species of Australian birds, Swiss chalet exteriors and other kitsch scenes. Fragments of his parents' 1970s curtain material are rendered in photographic works that return them to framed, window-like settings, despite the fabrics clearly being discarded as drop cloths for subsequent domestic re-decoration. Among the moving portraits of Monk's family is a slideshow that magnifies one image of them 80 times over, through which the artist is reflected in his child's gaze – as titled, Monk is literally Searching for My Father in My Sister's Eyes (2002) – while a series of childhood or holiday snaps, Same Time In A Different Place, are each juxtaposed with a vintage invitation card, for shows by the likes of Dan Graham, Sol LeWitt or On Kawara, sourced from the same date.

In stark contrast to such close-to-home subject matter, Monk has assembled a monumental installation of seven minimalist metal structures, each of these specially-built and coloured-coded pallets containing a shipment of rocks gathered from seven different contested territories in the Middle East: Lebanon, Jordan, Egypt, Palestine, Saudi Arabia, Israel and Syria (although no rocks could be gathered from this last location).
These enclosed tranches of landscape, culturally displaced and geo-politically charged, relate to Land Art exponent Robert Smithson's Non-Site series, for which he re-displayed earth excavated from specific areas in similar, pallet-shaped sculptural containers within a gallery. Other homages to recent heroes of art history include Blow Up, Monk's tongue-in-cheek destruction of the photographic work of German couple Bernd and Hilla Becher. Monk mimics their grids of monochromatic studies of industrial architecture, except the cooling towers and gas cylinders are toppling over and imploding in the process of being demolished.

While these two dominant poles of Monk's practice – his familial inheritance and his art historical inheritance – can seem worlds apart, many pieces weave together both strands. The life-sized, white ceramic Pig (2012) is both a scaled-up version of a piggy bank from his childhood and an imagining of an unrealised sculpture by Jeff Koons, as noted by the American artist as a possible alternative for his famous metallic bunny. Similarly, Monk's imposing self-portrait busts inspired by idealised Greco-Roman statuary, has each had its nose smited by a famous Italian artist of the Arte Povera generation, such as Jannis Kounellis, Gilberto Zorio or Emilio Prini, as well as by Monk himself.

Throughout the exhibition, Monk's authentic, artistic authorship variously raises or lowers its head above the parapets, either reaffirming his life's work or else channelling the work of others. The sight of numerous melancholic objects – a discarded piano cover, carved from wood, or a neon lightbox blinking between life and death – suggests a reflective strand in Monk's work, both lamenting time past and lauding bygone art historical heydays, especially so in the nostalgic title that references key literary and musical touchstones, I ♥ 1984.




Gimpel Fils
この立地でこれやるの!?と一番驚いたのが、こちらのギャラリーのLucy Stein & Shana Moulton 展でした。正直この女性二人組のユニットが誰なのか今もって全然分からないのですが、とにかくメイフェアに近いこの一等地の大きなスペースでやりたい放題、しかもそのクオリティもいささか微妙、という訳で僕はそのギャップにショックを受けました。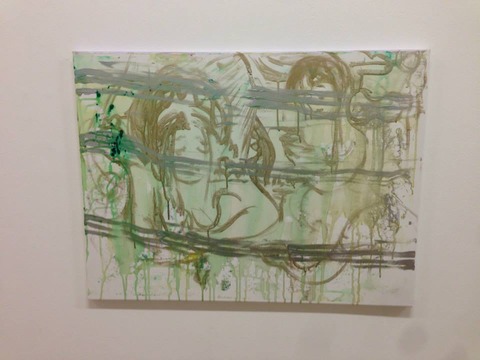 ゆるい絵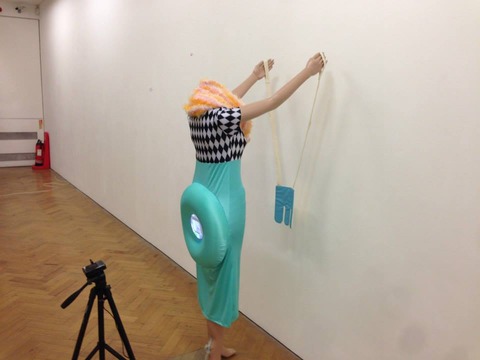 ゆるい立体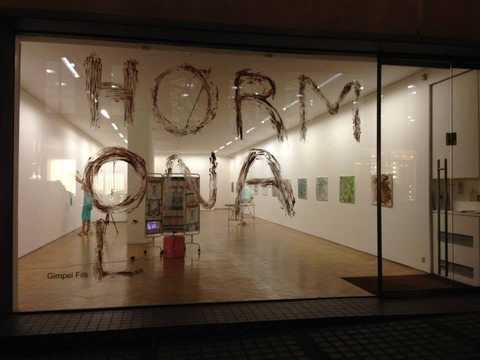 身なりの良い紳士熟女が行きかうメイフェアにこの見た目。


"What we see and what we seem are but a dream, a dream within a dream". Paraphrased from Edgar Allan Poe, this is the opening line in Peter Weir's Picnic at Hanging Rock. In an eerie echo, the first line in Polventon, spoken to a similar cadence by Lucy Stein, is equally startling: "My grandfather built this house and died here. Every year at Mayday we come to Polventon to try to work out where he jumped."
In both films, a building is framed at the start, Appleyard College and Polventon respectively. The action in each begins with a choice piece of music and in Polventon, for a while, something of the baleful nature of Stein's quest is conveyed in a series of tableaux and slow dissolves, with Stein and Shana Moulton, the two protagonists, wandering along the cliffs and sitting, forlorn, at a table overlooking the sea. In Weir's film the mystery is never resolved and neither is it in Moulton/Stein's film. It is a Greek tragedy, destined to be endlessly repeated. Yet the film has some wonderful changes of mood. The sea is a constant and vivid presence in Stein's work, including anthropomorphic use of crustaceans, who appear in various guises, notably as the result of a ritualistic incantation when the two women throw lemons into a bay and are visited by talking seafood. Rick Stein is on the end credits too, not uncoincidentally. A sly addition to the crab theme is the brief appearance of Simon Bayliss, Stein's erstwhile collaborator, who intones a puzzled query, delivered dead-pan, about crabs as human parasites.
Moulton and Stein are paired, twins enacting each scene as a duo or duet. The 'Retention' in the exhibition title is an oblique reference to water retention during the menstrual cycle, a cycle which in their video becomes the recurring sea, from which both women are strangely beholden, alternatively embracing it and distancing themselves from it.
If Lucy Stein's sea-based leitmotifs are in evidence, so are Shana Moulton's trademark images. The choreography, the colourful costumes, the curious objects which appear dotted here and there, the melding of one image into another. An unexpected sequence occurs when the women mimic the shape of Barbara Hepworth's sculptures, in her garden at St Ives, holes and all. What is a hole in Hepworth's sculpture and what is the hole that pierces the gyrating women, at womb level? Given that Hepworth's place in twentieth-century British art history remains a riddle, wrapped in a mystery, inside an enigma, to paraphrase Winston Churchill, then her inclusion in this film is entirely appropriate. Stein refers to the film's unfolding narrative as 'a patrilineal flashback through matrilineal lines' an observation equally applicable to Hepworth, whose ambivalence towards feminism has to be situated in the context of her role as the sole visible woman sculptor in a world of hostile male artists and institutions.
Shana Moulton and Lucy Stein will together execute a painting on the gallery's large window - a first for Gimpel Fils. The inspiration for this is a photo of Niki de Saint Phalle putting the finishing touches to a Nana, her iconic female figure, behind the very same window. Moulton will also be exhibiting sculptural dresses on mannequins that include video-portholes, as well as a customised hospital privacy screen. Stein will present new paintings. including an illuminated display in which her paintings become part of a three-dimensional assemblage.


Chisenhale Gallery
英国の現代美術、とりわけターナー賞の歴史を語る上で欠かすことのできない存在がこの非営利組織が運営するスペースです。
例えば92年にサーチのYBA展第1回展に参加し、93年にターナー賞受賞、97年にヴェネツィアのイギリス館代表、2005年にタービン・ホールで展示したRachel Whitereadは90年にここで個展『ゴースト』を開いています。個展名にもなったこの作品『ゴースト』はある部屋の内側を丸ごと石膏で型取って実物大で再現した立体作品で、この展示で話題になった彼女は93年にアートエンジェルの委嘱を受けて『ゴースト』を発展させた『ハウス』を制作し、一大論争を巻き起こします。これは取り壊しの決まったイーストの低所得者向け公営アパートを再び『ゴースト』のように再現させた野外彫刻で、この作品を展示中の11月24日夜に彼女は女性初のターナー賞を受賞しました。ところが同じ日の日中にKLFが主催するK財団が「今年のワースト・アーティスト」賞を彼女に授賞(賞金はターナー賞の2倍。彼女は賞金をチャリティに寄附)、更にターナー賞発表の数時間前には地元民が作品の即時撤去を求める集会を開くなど、公共の場で現代美術が果たす役割を巡る一大論争を巻き起こしたのです。(以上、近藤健一『ターナー賞にみる英国美術の現在史』参照)もし90年に彼女がこのスペースで個展を開いていなければ、その後のこのような展開もなかったかも知れません。
また88年にはヴェネツィアに出展し、Whitereadの前年にターナー賞を受賞したGrenville Daveyも92年にここで個展を開いています。ほかにもGillian Wearing(97年受賞)、Sam Taylor-Wood(98年候補)、Jane & Louise Wilson(99年候補)、Wolfgang Tillmans(2000年受賞)と枚挙にいとまがありません。
実は今回のロンドン訪問のもう一つの目的は、北京で大ファンになったJames Richardsも候補になった今年のターナー賞作家展をテート・ブリテンで見ることでもあったのですが、見事受賞したDuncan Campbellは09年に、残念ながら逃したJames Richardsは11年に個展を開いています。流石としか言いようがありませんが、将来のターナー賞候補を占うのに、ここでの展歴が大いに参考になるのは間違いないでしょう。
僕が訪れたこの日は、Caragh Thuringというぺインターの個展でした。これ自体は正直あまりピンときませんでしたが、僕がいいなぁと思ったのは、クリスマスに合わせてエディションのセールをしていたことです。ターナー賞受賞作家のユニーク・ピースはとても購入できませんが、エディションなら手が届きます。それもクリスマスということでセールをしている。ホワイト・キューブでもエディションを販売していましたが、こういう活動に売り手買い手双方の層の厚さを感じました。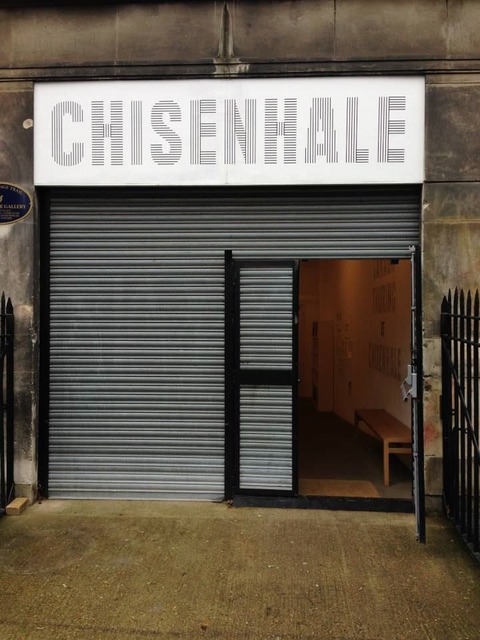 エントランス。不便なイーストの中でもとりわけ不便なところにありますが、ヘラルド周辺と違って殺伐としたムードはありません。辺りは閑静な住宅街といった感じでした。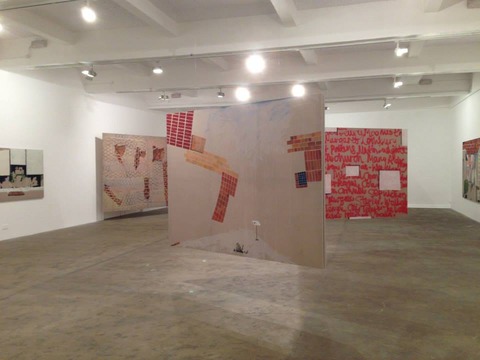 当日の展示風景。正直作品自体はピンときませんでした・・・。

Chisenhale Gallery presents a new body of work by London-based painter, Caragh Thuring, and her first solo exhibition in a public gallery. Through her paintings, Thuring examines the speed at which images are consumed, asking exactly how much information is required to satisfy intention and how slowly the process of looking can unfold. With this new body of work Thuring explores pertinent questions surrounding contemporary image making such as the value of time and how this contributes to the generation of meaning.

Several paintings are derived from large picture windows in Dutch suburban homes, where idiosyncratic displays of vases, plants and knick-knacks are often arranged in pairs. Thuring perceives the windows as self-portraits of their owners. Considering the dual function of the windows as devices for observing and for being observed, in these works the objects become substitutes for traditional portraiture. The images are interrupted by reflection, surface and a constant reversal of interior and exterior space, disrupting straightforward readings of psychological perspective, as marked by the boundary of the window frame.

Further works emphasise the canvas as a territory to be mapped. Two paintings, shown back to back, list all the churches within the Square Mile of the City of London. Each name is sprayed with industrial line marking paint and packed densely within the fixed limits of the canvas. The words sit solid and immovable as the churches: timeless and untouchable buildings, which appear as unintentionally rebellious spaces, standing defiant amongst the constant flux of London's overdeveloped financial centre.

Absent of hierarchy in subject matter or use of materials, Thuring's paintings are loosely constructed exploring recurring motifs, including pyramids, brick work, volcanoes and the human silhouette. These speculative environments are rendered with an economy of means and leave large tracts of empty linen. For Thuring, the process of making work can be likened to editing film. Her paintings unfold in time: images stall and stutter, giving way to silence and space for thinking and looking.

Caragh Thuring (born 1972) lives and works in London. Recent solo exhibitions include Anthony Meier, San Francisco (2013); Simon Preston Gallery, New York (2011); and Thomas Dane Gallery, London (2010). Group exhibitions include Live and Let Die at Modern Art, London; July at The Approach, London (both 2014); Performer As Curator, The Lowry, Manchester (2013); The First Rebellion is History, Next Week Rome Falls, Simon Preston Gallery, New York; Troubling Space, Zabludowicz Collection, London (both 2012); and Newspeak: British Art Now, Saatchi Gallery, London (2010).

With thanks to Thomas Dane Gallery.

Chisenhale Exhibitions Partner 2014: Fiorucci Art Trust.




とまあ、こんな感じです。ほかにもお見せしたい画像はたくさんあるのですが、残りは実家JIKKAのアルバムに上げておきましたので、そちらをご覧ください。


さて、「中国のアートをコレクションすることにリアリティーが感じられない」ことから始まったこの1週間の旅でしたが、果たしてロンドンのアートに「リアリティー」はあったのでしょうか。
答えはイエスです。
それは何もSupplementやROWINGといったエマージングなギャラリーに限った話ではありません。あのZwirnerでさえもが作家のキャリアとクオリティーに応じて適正な価格を付けていました。

百聞は一見に如かず。やはりうちでPCをいじっているだけでは分からないことが沢山あります。
足を使って、この目で見て、空気を感じて、ギャラリストたちと会話する。そうすることでしか分からないこと。
今回のロンドン行きは実に充実した有意義なものとなりました。そしてここでの紹介記事が少しでも皆さんのお役に立てば幸いです。


今年も一年、拙ブログをご愛読いただき有難うございました。
更新頻度が低いことにお叱りを受けながら、今後もマイペースで続けて参りますので、どうぞ引続きお付き合い願います。
皆様におかれましてはどうぞよいお年をお迎えください。