April 24, 2006
April 07, 2006
March 25, 2006
Spring has come!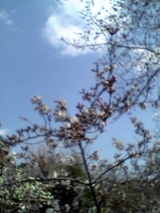 The spring has come here in Tokyo.
You can tell that because the cherry blossoms(sakura) start blooming, which are expected to be in full bloom in a week or 10 days. In Japan, the flower forecast of sakuras has been covered on television since the beginning of March. Based on the sakura forecast, people are planning when to take "sakura-viewing-picnic" to appreciate the beauty of the flowers and the advent of spring.
Let's go to see the sakuras, shall we?!
March 06, 2006
February 02, 2006
January 31, 2006
January 24, 2006
January 19, 2006
January 18, 2006
December 18, 2005
December 14, 2005
December 08, 2005
December 05, 2005
December 02, 2005
November 23, 2005
November 19, 2005
November 13, 2005
November 09, 2005
November 08, 2005
November 07, 2005