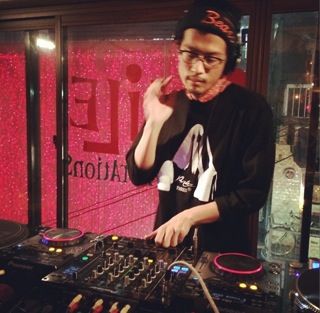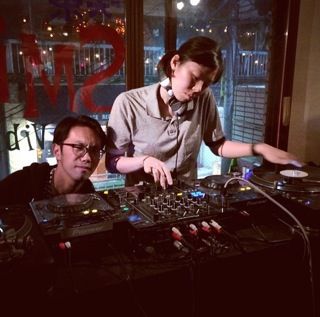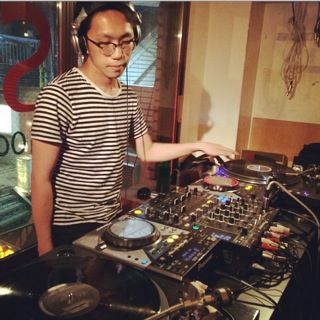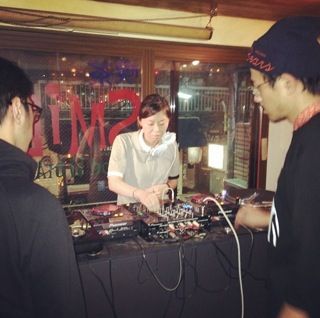 先日の"kayano_soto"に遊びにいらしてくださった皆さま、ありがとうございました!!
当日は、僕の誕生日まで祝ってもらってしまい、本当に感謝です…涙。
普通にDJ交替するつもりで準備していたら、電気グルーヴの「Happy Birthday」が突然かかって、サプライズに驚いたのと同時に、すごい"kayano_soto"っぽい演出だなと思いました(おめでとう、自分!)。
29歳、面白いDJが出来るように精進していきます。
前回のセットリストはこんな感じでした↓↓↓
18 Jun, 2014.
"Kayano_soto" @喫茶SMiLE DJ SETLIST

きゃりーぱみゅぱみゅ vs. Major Lazer - "PONPONPON De Floor" 〈self-released〉
BONDE DO ROLE - "SOLTA O FRANGO(tofubeats remix)〈self-released〉
Tomato n' Pine - "ワナダンス!"〈Sony〉
Octa Octa - "Cause I Love You"〈100% Silk〉
Doss - "Softpretty"〈Acéphale〉
Hercules & Love Affair feat. John Grant - "I Try To Talk To You"〈moshi moshi〉
Todd Terje - "Delorean Dynamite"〈Olsen〉
Lone - "Vengeance Video"〈R&S〉
Martyn + Four Tet - "Glassbeadgames"〈Ninja Tune〉
Moiré - "BBOY 202"〈Werk Discs〉
Radio Slave - "Don't Stop No Sleep"〈Nonplus〉
D.J. Fulltono - Baby Je Kajoo(Seiho Remix)〈Terminal Explosion〉
Hanali - "BitSonde"〈Flamebait〉
Ninos Du Brasil - "Sombra da Lua"〈Hospital〉
Swindle - "Do the Jazz"〈Deep Medi〉
Trippy Turtle - "Trippy's Theme"〈Mad Decent〉
三毛猫ホームレス - "そばが食べたい"〈Maltine〉
Pa's Lam System - I'm Coming〈Maltine〉

最初の2曲とNinos Du Brasilは、ブラジルW杯に便乗してかけました。
(tofubeatsの高校生時代の仕事(2007年)であるBONDE DO ROLEのリミクスは、今でも大好き!)
インディっぽいハウスとかテクノとかゴルジェとかジャージー・クラブとかアイドルとか自分が好きなものをいろいろかけることが出来て楽しかったです◎
フルトノさんの「Baby Je Kajoo」は、Akiocamがオリジナルをかけてたので、僕はSeihoリミクスかけてみました(EP最高〜)。
あと、ラストのB2Bで、最後の最後にLady Hawkeの「Paris Is Burning」を久し振りにかけたのですが、曲もリリックも完璧すぎてホント泣きそうになります。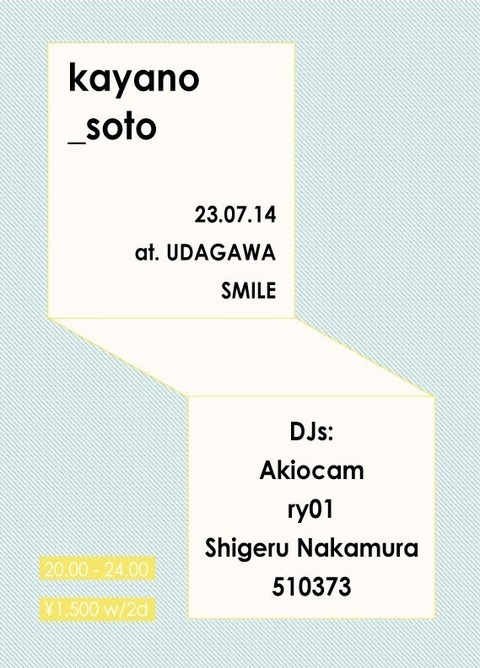 次回のパーティは、第4水曜日に戻って、7月23日に開催です!
今から予定を空けておいてくださいね〜。夏フェス前に遊びましょ〜。
ry01