2007年11月17日
baby turtledoves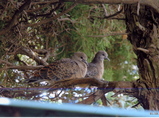 This fall a turtle couple brought up two babys again in the same nest they made last year.
These are the baby doves perching in a tree of my next door neighbor.
This was the first flight from the nest and now they are out of the nest for ever.
2007年05月02日
2007年04月10日
2007年03月26日
2007年03月25日
2007年02月22日
2007年01月04日
2006年07月26日