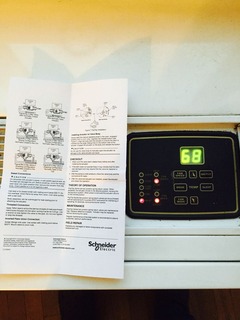 These days the weather gets so nicer and temp is like 40-50, but still winter weather.
We need to heat the air inside so the air conditioner is always on when I stay at home.

However, suddenly, the air heated does not come...
It shows 77, but the air comes out in so cold like 30-35.

I did not know it was not working, but I thought outside was too cold.
Actually, it seems something wrong with the air conditioner.

I called our handyman to fix it and he found thermostat was not working at all.

He pointed out it costs like US@200-300 to fix it, if I call other guys from AC company.

I decided to buy new thermostat on the web and ask him to exchange it.
It was not so easy to find identical thermostat, but finally could get it.

This afternoon I called him, but different guy came to fix it.

This guy was so typical to ask me US$50.00 as soon as he came in my room...otherwise I have to do it by myself.
I had no choice, but accepted his offer, as I needed to fix it before TEMP would be too low again.

This is so messy thing for me, but fortunately he knew so many things from his experiences.
Actually, he was more professional, compared with another guy came last time.

He also pointed out air filter was so dirty...
It was unbelievable too much dirty with dust...
He helped me cleaning it up so fresh air is coming out.(no more musty air)

I tried to be so friendly with him, even if he says this nasty costs like US$50.00.
Maybe I was wrong, but it was good enough service and If I treat him so nicely, he would also try to give me nicer service.

His name is Jason who came to fix my air conditioner on Mar/14 Saturday, not yesterday=Mar/13 Friday.

Anyway, this is so typical in N.Y...