Many people who use computers might wonder why they must have a Windows registry cleaner along with their anti-virus software. The majority of users have no clue how critical it can be to the operation of a Windows system. It quietly putters away in the background when users work with their computers, surf the internet, or play their favorite video games.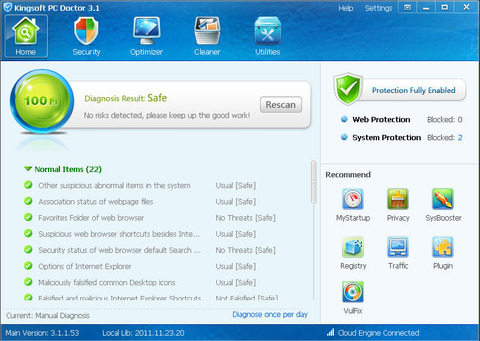 The registry would be the backbone of the Windows operating system. It records all sorts of data about the operating system configuration, information required to boot your computer and operate software applications. In the event it becomes bloated with old information, duplicate entries and registry errors, it can lead to chaos on the computer system. Users may feel slow PC performance, programs may fail to open entirely and errors may occur when booting up the system.
Although, computer specialists can edit the registry manually to fix these issues, unskilled people should never attempt to repair the registry by hand because of the likelihood of damage. If users unintentionally modify or delete one key that the system is required to boot then they might have to reinstall Windows to fix the damage.
Fortunately, Kingsoft Security here provides computer users an FREE solution –
Kingsoft PC Doctor
.
According to team members, "Even if you've never used a free registry cleaner, Kingsoft PC Doctor is easy to figure out. It has features especially for beginners who don't know how to fix Windows errors manually. It's also automatically connected to the Kingsoft Cloud Engine, which helps PC Doctor detect and clean billions of harmful trojans and malware programs from your computer."
Once installed, Kingsoft PC Doctor can be set up to scan a users system once a day, always providing recommendations for improvements. Plus users can pick and choose among protection functions provided on the interface. For example, to scan for trojans, a user clicks the Security icon, then the Trojan Scanner tab where they can select between a full scan, fast scan or a custom scan.
"Not everything is meant to be deleted," added one of the team members. "In some instances, Kingsoft PC Doctor provides specific suggestions for optimizing your system, explaining what should be kept and what you can do without. This is perfect for both beginners, who don't want to be bothered with complicated terminology, and advanced users who truly understand their systems."
Kingsoft PC Doctor is compatible with computers running Windows 7, Windows Vista (both 32 and 64 bit), as well as Windows XP (32 bit only). The program has always been distributed as freeware and according to developers, will indefinitely remain as freeware.
To download Kingsoft PC Doctor, visit their website
at (
http://www.KingsoftSecurity.com
).