November 21, 2010
Diary of the trip by myself in Sapporo
(This is my diary in spring. It took a little long time to upload.)
Preface
Some people around me seem to think that I like to travel because I went to the US for DuranDuran five years ago, I went to Uganda for Jica's study training the year before last and I've gone to many areas of Japan for conventions of art or music education every year.
However, in fact, I am a regular home body.
If I have something to do, I'll go out. But basically, I try not to come out from my room as much as possible.
So I had hardly done any sightseeing tours.
However, I was given a travel ticket this year because I had worked for 10 years and I had to use the ticket by the end of March. I thought that I could use it for my job or something. Had a convention been held at a far -off place, I should have used it, but this year's music and art convention was held in Tokyo.
Then I burst into JTB in a hurry at the end of February and decided to go to Sapporo in Hokkaido. In Hokkaido, Asahiyama Zoo is also good. I scheduled a three day trip to stay in Sapporo and go to Asahiyama Zoo.
Before the trip, I watched the movie "Story of Asahiyama Zoo." It was perfect preparation homework.
Diary of the trip by myself in Sapporo
March 28th, Sunday
I left Nakayama to Haneda Airport by the Keihin line via Yokohama. It took about one hour.
When I arrived at the airport, I noticed something terrible. My digital camera's battery case was empty. I took out the battery to charge and left it in my house.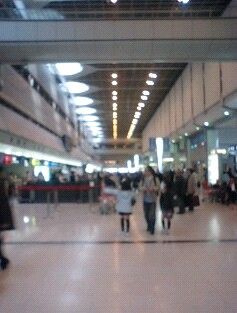 The reason why I made such a mistake is that I bought a new digital camera recently. The old digital camera's battery was built-in and it needn't have to be taken out.
This is a photograph that I took with my mobile phone. It was very hard to photograph. I was briefly determined to take photographs on my trip by mobile phone.
However, wait, there is Yodobashi camera or Bic camera in Sapporo too right?
Can't I buy the battery in those stores?
Instantly, I searched the internet with my phone for a volume-sales electrical appliance store and found a Yodobashi camera location by the side of Sapporo station.
I was at ease for a while, bought a box lunch at the gate shop, and got in the airplane. The airplane took off at 11:00am.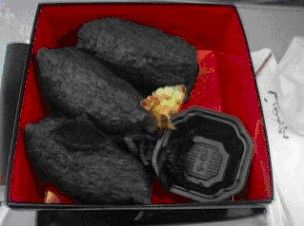 I had lunch on the plane. The box lunch was "Kuro-Inari." It was black Inari-zushi.
Inari-zushi is flavored boiled rice wrapped in fried bean curd. This black appearance is because "edible carbon" is used. There were three of inari. One was "Kikurage(Jew's-ear)& Hijiki(edible brown algae)", one was "kinpira (burdock root) & black sesame" and one was "black soybean." About the taste, they were ordinary Inari-zushi and had a normal but good taste.
The plane arrived at Shin-Chitose Airport at 12:35. I then got on JR line train.
This is a view from a the train window. It was truly snow country.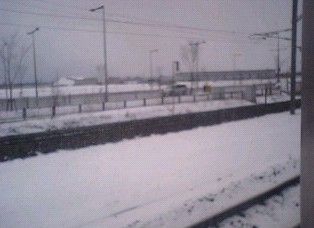 Although outside was snowy, it was warm the inside of a train. It was rather hot.
I arrived Sapporo station at 3:15. I then, went to Yodobashi camera and bought a battery and a charger. It's not bad to have two batteries because batteries are expendable supplies.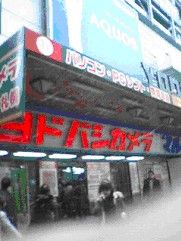 I got on the subway to Nakajima park station and took a photo with my digital camera in the train.
From Nakajima park station I walked to Art Hotels Sapporo where I stayed during the trip.
This hotel has a natural hot spring spa and guests can use the spa freely.
ホ
After checking in, got on the subway again and went to Odori station.
There was a shop called Kita-kitchen by the station. JTB gave me a 500 yen coupon for the shop, so I went to the shop to use it.
Kita-kitchen was a foods and goods shop from Hokkaido. Since the foods and goods were little bit expensive, I bought only a cut of cheese (530 yen) .
I walked along the subway passage east from Odori station and came outside.
It was really snowing.
Chitose-zuru museum was two block away from the subway exit.
Chitose-zuru is a sake brewery in Hokkaido.