April 2007
April 26, 2007
The Hyphy Movement compiled by DJ Shadow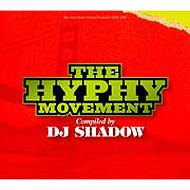 マ○ターさんの買うならまずこっちでしょ。
以下、
Tower.jp
より引用。
話題の"ハイフィ"を、DJ シャドウがコンパイル!
アメリカ西海岸から世界に放たれた新たなるムーヴメント="ハイフィ"を、ストリートのカリスマ=DJ シャドウが教えます!いち早く"ハイフィ"へのアプローチをみせた、シャドウの2006年作『The Outsider』の収録曲「3 Freaks」をはじめ、ヤング・デュオDem Hoodstarz、"ハイフィ"の生みの親である御大 E-40と、その従兄弟でもあるTurf Talkなどの楽曲を収録した、"ハイフィ"を知りたきゃ、コレを聴け!と言わんばかりの見事なセレクト!日本でも"ハイフィ"旋風が吹き荒れるのは時間の問題?
<収録曲>
1 Thizzelle Dance:Mac Dre Feat. Chuck Beez
2 Super Hyphy:Keak Da Sneak
3 "The Bay (Hyphy Rmx):Zion I Featuring Clyde Carson, Turf Talk, San Quinn, And Casual"
4 It's Ah Slumper:Turf Talk Feat. E-40 & Stress Of The Federation
5 Getz Ya Grown Man On:Dem Hoodstarz
6 Hyphy Juice:The Team
7 Super Sic Wit It:Mistah F.A.B. Feat. Turf Talk & E-40
8 "3 Freaks (Droop-E Remix):Dj Shadow Feat. Mistah F.A.B., Turf Talk, Keak Da Sneak"
9 I Gott Grapes:Nump Feat. E-40 & The Federation
10 Scrapin':Gorilla Pits Feat. Keak Da Sneak & Turf Talk
11 The Dummy:E-40 Feat. Stress-Matic
12 Metros & Chirpers:Mistah F.A.B. & Droop-E
13 Fassst:Kafani Feat. Keak Da Sneak & Kapacity
14 That Go:Keak Da Sneak
15 Fellin' Myself:Mac Dre