May 25, 2007
Japanese Navy Underground Headquarters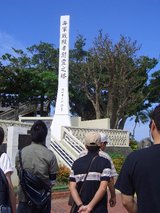 War memorial at the Japanese Navy Underground Headquarters in Tomishiro city.
Until June 13, 1945, Japanese Navy Admiral (Mr. Ota) and his 4,000 men were fighting against the American's severe attack.
On the night of June 13, the Admiral and his six officers killed themselves in one of the underground staff room. Today, we can visit the 300 meter cave tunnel; but it has some more area still closed to the public.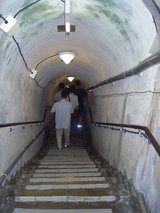 After going down this long stairs, we will see a staff room where the admiral and his men shot themselves, a commanding officers room and generator rooms.
This part is off the record----A good friend of mine visited this site a few weeks ago. She took a couple of pictures and --- she saw something in her pictures that she did NOT see with her own eyes. (spooky!!!)
(Japanese version)
沖縄本島南部の豊見城市にある旧海軍司令部壕(きゅうかいぐんしれいぶごう)を訪れてみました。沖縄戦の組織的戦闘が終結したのは1945年の6月23日とされていますが、その10日前、この地下トンネルでも、日本海軍の少将をはじめとする4千人が自決した場所です。静かな地下壕は、訪問者に静かに平和を語りかけているかのようです。