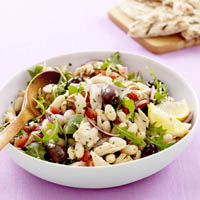 ones in your pantry, and this salad is a snap.
Total Time: 0:14
Prep: 0:10
Cook: 0:04
Level: Easy
Yield: 4 servings
Serves: 4
Ingredients
1 can white cannellini beans
0.50 c. thinly sliced red onion*
1 can tuna in olive oil
1 c. diced plum tomatoes*
0.50 c. pitted kalamata olives
2 tbsp. chopped Italian parsley*
1 tbsp. lemon juice*
0.50 tsp. grated lemon zest*
0.25 tsp. salt
0.25 tsp. Freshly
Intellectual Property Management
services/trustcsi-mfs" style="color:#080000; text-decoration:none;">Managed Firewall Service ground black pepper
2 c. torn arugula leaves*
4 thick flatbreads
More Pantry Staples
*Denotes fresh ingredients to pick up at the store.
Directions
In a bowl, combine beans
reenex
, red onion, tuna, tomatoes, olives, parsley, 2 tablespoons of the reserved olive oil, lemon juice, lemon zest, salt, and pepper, tossing gently to combine. Stir in arugula.
Preheat grill or heat grill pan. Brush flatbreads lightly with the remaining reserved olive oil. Grill until lightly browned, about 2 minutes per side. Cut flatbreads in halves or quarters. Serve with salad.