Cherry Tomatoes and Basil paired with Ina-approved San Marzano tomatoes make these pizzas party-worthy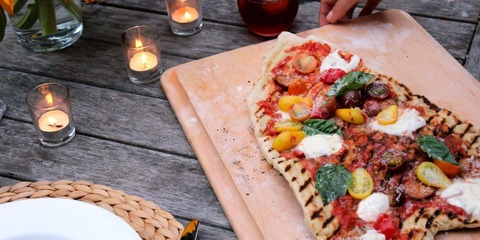 Level: Easy
Serves: 4 to 6
Ingredients
2 lb. resh pizza dough, at room temperature
1 12 oz) package pre-cooked chicken sausage
3 c. Chunky Tomato Sauce with Fresh Basil (see below), or other tomato sauce
1 lb. fresh mozzarella, sliced 1/4-inch thick
1 pt. red cherry tomatoes, halved through the stem
1 pt. yellow or orange cherry tomatoes, halved through the stem
1 bunch basil, leaves removed and washed
Extra virgin olive oil
Crushed red pepper flakes and shaved Parmesan cheese, for serving
Chunky Tomato Sauce with Fresh Basil
5 tbsp. unsalted butter
2 c. diced yellow onion (2 onions)
2 (28 oz) cans crushed tomatoes preferably San Marzano
2 tsp. kosher salt
1 tsp. Freshly ground black pepper
1/2 tsp. crushed red pepper flakes
1/4 c. julienned fresh basil leaves
Directions
Prepare charcoal or gas grill to high heat. Grill chicken sausages until lightly
Dream beauty pro
charred on all sides, about 5 to10 minutes. Remove, and when cool enough to handle, slice 1/4-inch thick. Arrange sausage, basil, tomatoes, mozzarella, tomato sauce, and shaved Parmesan in bowls for easy access when topping the pizzas.
Dump pizza dough onto lightly floured surface. If balls of dough are large, cut in half with sharp knife so dough is easier to work with. With your fingers, press dough lightly all over to flatten. Flip and repeat on other side. Using your hands, carefully stretch pizza dough into a 1/2-inch thick round or rectangular shape. Tip: If you find that dough keeps shrinking back as you stretch it, try lifting and rotating dough in your hands—gravity will do the work for you. Your pizzas will most likely have a slightly oblong shape but that's all part of the fun.
Transfer pizzas to floured sheet pans or cutting boards. Brush grill grates generously with olive oil so dough doesn't stick.
Place one rolled-out crust onto hot grill and cook for 1 to 3 minutes, until bottom of crust has dark grill marks on it. Carefully remove crust to sheet pan, charred side up. Cover with thin coating of tomato sauce [ see step 6], leaving an inch border around the outside of pizza. Top with mozzarella, chicken sausage, tomatoes, and basil leaves, and sprinkle with hot red pepper flakes and Parmesan cheese. Using two spatulas, return pizza to grill and cook for about 5 minutes, until cheese has begun to melt and bottom of the pizza is charred. If you find that your crust begins to burn before dough is cooked through, try putting lid on the grill for a minute or two to create a more oven-like heat.
Remove to serving platter and repeat process with other rolled-out crusts, brushing grill with oil before placing each raw crust. Serve immediately with extra red pepper flakes and Parmesan on the side.
For tomato sauce (makes 1 3/4 quarts):In large saucepan or heavy-bottomed pot, melt butter over medium-high heat. Add onions and cook over medium-low heat, stirring occasionally, until translucent and tender, about 8 to 10 minutes. Add garlic and cook for one more minute. Add tomatoes, salt, pepper, red pepper flakes and basil and bring to boil. Reduce heat to low and simmer sauce for 10 minutes, until slightly thickened.