April 2011
RF's interview!!!
Today's interview is with
RF


Mr.RF is a famous
SF4 Sagat
player.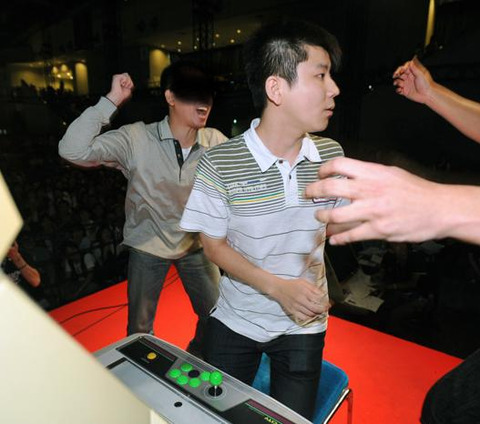 RF is a champion of SBO2010, Guilty Gear and SF4.
He is Momochi and Kindevu teammate.

He is strong in Guilty Gear too.

1、AEのゲーム性についてどう感じていますか?
What do you feel about SSF4 AE game system.
かなりいいと思います。
I think that it is very good.
個人的にはバランスは前のスト4よりスパ4AEのほうがおもしろくなったような気がします。
AE balances are more interesting than the SF4 balances.
2、AEの好きなところを挙げてください。
What do you like about AE?
キャラバランスがかなりよくなったのでとれるキャラの幅が広くなったのとチーム戦がより楽しくなった気がします。
The character that can be used has increased and Fighting in the team became more interesting.
Because AE became well-balanced.
3、AEの嫌いなところを挙げてください。

What do you not like about AE?
今のところは特にないです。バランスいいと思います。
For now, no. I think that it's has good game balance.


4、現在のあなたのAEでのメインキャラと、その感想をお聞かせ下さい。
(そのキャラの強い部分、弱い部分、魅力等)
I would like to know what do you think about your current main in AE?
(Strength/weakness, attractive part, etc)
最初のころはユンとフェイロン使ってたんですが自分に合わなかったので結局サガットに戻りました。
I used Yun and FeiLong first. But they just didn't match my playstyle.
In the end I went back to Sagat.

最強ではないんですがユンとヤンにたいして戦えるのと使いやすさが最大の魅力だと思います
Sagat is not the strongest but Sagat is able to put up a fight with Yun and Yang. And Sagat is easy to use.

いけるのは、ユン、ヤン、ルーファス、ザンギ、ホーク
Easy opponent:Yun,Yang,Rufus,Zangief,T.Hawk.

きついのが、フェイロン、いぶき、ダッドリー、ガイ、ゴウキ
Difficult opponent:FeiLong,Ibuki,Dudley,Guy,Akuma.


6、サブで遊んでいるキャラとそのキャラについてのコメントをお願いします。
Can you comment on the sub characters you are playing.


サブキャラはユン、フェイロンです
Sub character are Yun and FeiLong.
7、AEのキャラのランクについて意見をお聞かせ下さい。

AE Tier List?
ユンが1強で後はフェイロン、ヤン、マコト、バイパー、サガット、ゴウキ、ケン辺りが上位キャラな感じがします
Yun is No,1.
FeiLong, Yang, Makoto, Viper, Sagat, Akuma, Ken are strong.
Thank you RF
for the interview!
Hope you're doing well.

あーるえふさんどうもありがとうございました!
更新遅くなってしまい申し訳ありませんでした(。´゚ェ゚)。´_ _)